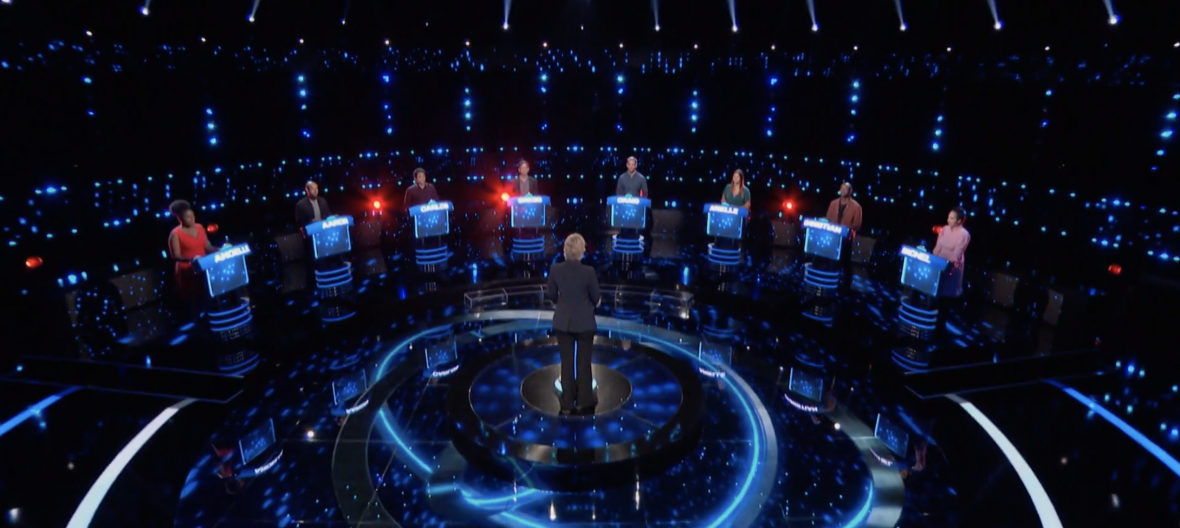 September 14, 2020
What to Expect from the New "Weakest Link"
Watch the first preview for the revival of Weakest Link, plus read about some changes to expect.
After 17 years off the air, Weakest Link is coming back to America. The popular quiz show returns to NBC on Tuesday, September 29th, at 8:00PM ET (before moving to Mondays at 10PM starting October 19th).
Jane Lynch hosts the revival which sees a team of eight strangers work together to build a chain of correct answers. Contestants can "Bank" at any point but a wrong answer restarts the chain. At the end of each round players must vote out who they think is the Weakest Link. The sole survivor wins the jackpot which can be up to $1,000,000.
NBC has released the first preview for the show, which you can watch below. We've got some information on changes you can expect to see beyond the updated set and new host. And yes, the original music (updated for 2020) is returning from original composer Paul Farrer.
New additions:
*Money chain grows each round: On the previous NBC version the top prize each round was $125,000 (doubled for the final round). The new version starts out smaller and increases throughout the show. The preview shows rounds of $25,000, $50,000, and $100,000. You may be able to fill in the additional rounds because:
*The final round is worth $500,000: There's no video evidence of this yet but we're being told the final round is now worth $500,000. Previously it worth $250,000, so there's a real chance to build up your bank if you vote strategically beforehand. Given that one of the seven rounds is worth $500,000, that leaves $500,000 to divide up between the other six. We already know $25,000, $50,000, and $100,000. You may be able to figure out the rest with some math.
*Strongest Link gets immunity: Obviously not shown but we're being told that the Strongest Link will receive immunity from being voted out. We're not entire sure how this goes – we don't know if the players are told before the vote who the Strongest Link is or if they don't know and if the team votes out the Strongest Link, that person then gets to choose who to eliminate. We'll find out soon if this is true.
*Discussions happen before the votes are revealed: We are hearing that discussions about performance and who to keep or get rid of happen before the vote is revealed. Previously players voted, the votes were revealed, and discussions happened. Now players vote, discussion happens, and votes are revealed with the Weakest Link being removed at that point.
NOTE: This was updated upon further videos published.
Be sure to watch the new Weakest Link starting September 29th at 8:00PM ET on NBC.