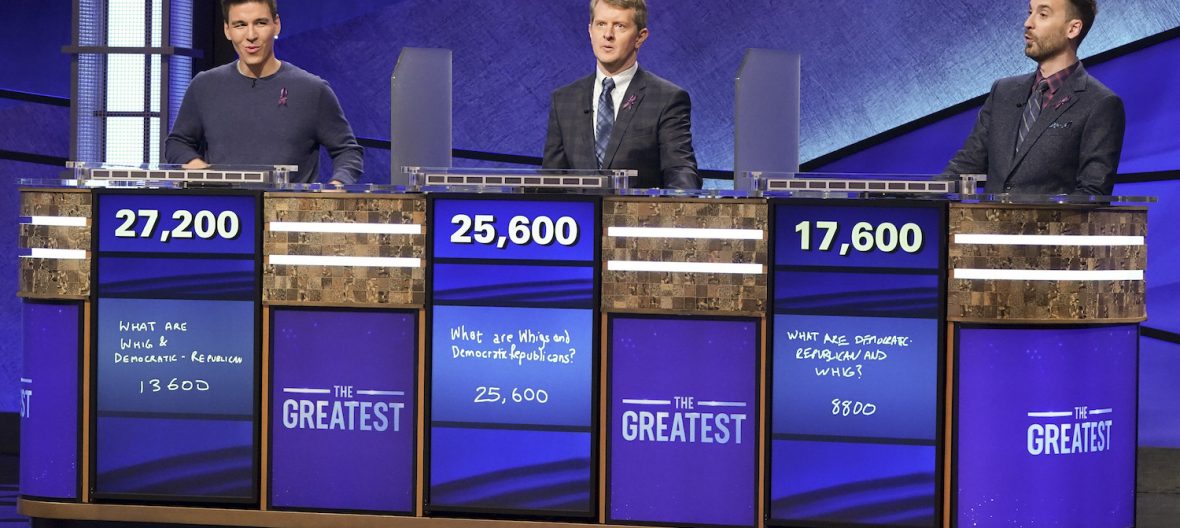 January 14, 2020
Jeopardy: The Greatest of All Time Day Four Recap
Ken Jennings is one win away from being crowned the Greatest and winning $1,000,000. Did Brad Rutter or James Holzhauer stop him? Find out inside.
ABC's Jeopardy!: The Greatest of All Time is back. After three matches, Ken Jennings has two wins to James Holzhauer's one. All Ken has to do is win tonight and he takes the title. Can either James or Brad Rutter keep Ken away?
Game one started with a dominating performance by Ken Jennings. Courtesy of a true Daily Double (and clearing half the board himself), Ken finished with 12,800 to James's 4,400 and Brad's 2,400. Double Jeopardy continued Brad Rutter's consistent Daily Double misfortune, wiping out again. Ken entered Final Jeopardy with 32,600 to James's 22,600 and Brad's 2,000, and took game one with an incredibly gutsy all-in bet to end with 65,200. James Holzhauer finished with 34,181. Brad unfortunately ended with 0.
Game two started with a show-stopping burn from James.
After hunting for the second Daily Double in Double Jeopardy, James went all-in with 20,200 and pulled out a right answer at the last second. James finished Double Jeopardy with 44,000 to Ken's 23,000 and Brad's 1,400. With Brad Rutter out, James effectively just needed a correct Final Jeopardy response to tie the series. It was not to be…James bet everything on a wrong answer and was knocked to 0. With 88,600 total, Ken Jennings won his third match and won the title The Greatest of All Time.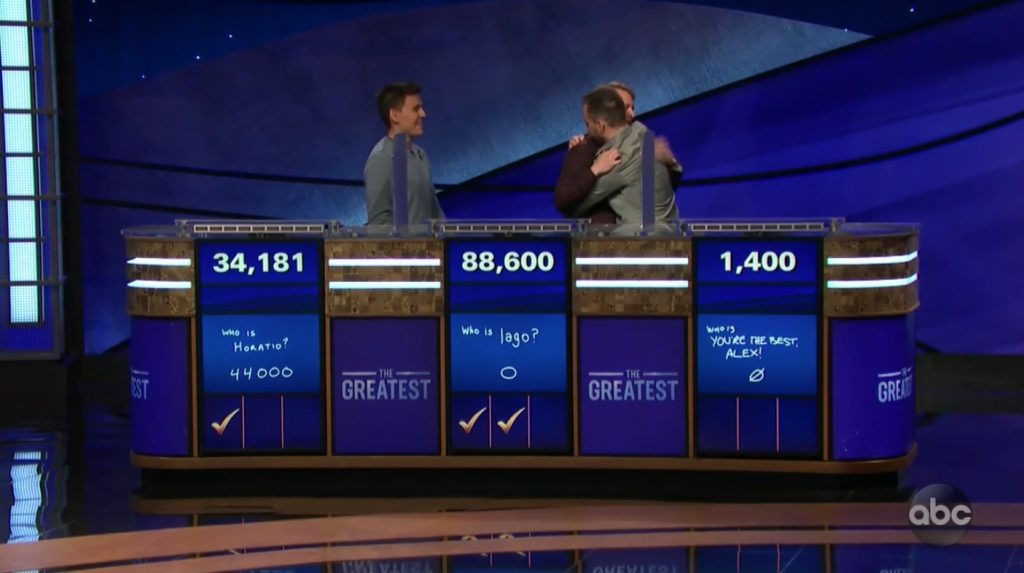 This is Ken Jennings's first tournament win in his Jeopardy! career. This million dollars brings Ken's total winnings up to $4,370,700.
We'll have more soon but…wow. Game shows don't get better than this.