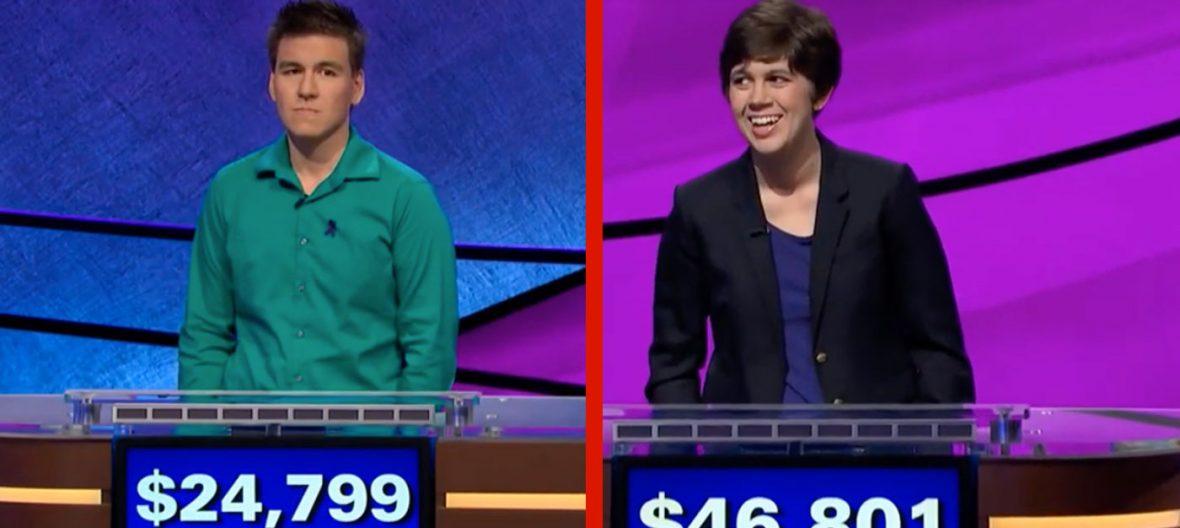 June 3, 2019
Emma Boettcher Defeats James Holzhauer; James Leaves Jeopardy! with $2.4 Million
Emma Boettcher stopped James Holzhauer on the threshold of breaking Ken Jennings's regular season record in a match for the ages.
James Holzhauer's 32 game Jeopardy! winning streak has come to an end on June 3rd. Emma Boettcher defeated the champion who has captivated the nation and is the first new Jeopardy! champion in over a month, winning $46,801. In addition to the speed and intelligence always needed to win, Emma bested James at his own strategy by finding both Daily Doubles in the Double Jeopardy! round, ending regular play with $26,600 to James's $23,400. Both players responded to the Final Jeopardy! answer correctly, making Emma unseat the mega champion.
James Holzhauer ends his run with $2,464,216. He averaged $74,673 per game, which alone is close to what the previous single day record was before James started ($77,000). James has the second highest regular season score ever, the second longest streak in Jeopardy! history, and holds all top ten daily score records, with a peak of $131,127. James is also the third biggest winner in the show's history, behind Brad Rutter and Ken Jennings.
While most of the attention will be placed on James, Emma Boettcher deserves an enormous amount of praise and attention. She unequivocally defeated James and played one of the most impressive games we've seen. Emma played as well as you possibly could and won an amount that, pre-James, would be an enormous deal any other day. Congratulations to Emma and hopefully she'll have a nice long run as well. Many more thoughts on Emma can be found here.
And that's the end of that! It's disappointing to see the run end just on the verge of the all-time record, but this has been an unbelievably once-every-few-decades experience for game show fans and we're happy we all got to experience it together. James will be back in the Tournament of Champions and probably every invitational the show ever does again.