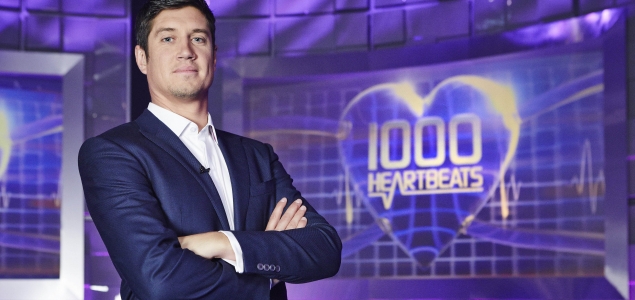 May 26, 2015
ITV Renews 1000 Heartbeats
The Vernon Kay-hosted daytime quiz returns this Autumn.
We've got some good news to get you started after the long holiday weekend. ITV has announced their daytime quiz show 1000 Heartbeats has been renewed for a second series. The new run will air this Autumn and will go for an extended 30 episode run of 60 minute episodes. Vernon Kay returns as host.
The 25 episode first series averaged a respectable 1.2m (13.2%) and peaked at 1.42m (14.4%) for its debut.
Each episode of 1000 Heartbeats sees a contestant hooked up to a heart rate monitor. The contestant has 1000 of his or her own heartbeats to beat various quiz rounds in an effort to win £25,000. The more nervous and frantic the contestant…the faster the heartbeats disappear and the less time to answer. Last series no one won the full £25,000 but one person did come close, winning £10,000 (another also reached the £10,000 but failed to successfully cash out and left with nothing).
We covered the show quite extensively the first series so if you aren't totally familiar with 1000 Heartbeats check out some resources below.
H/T BroadcastNow