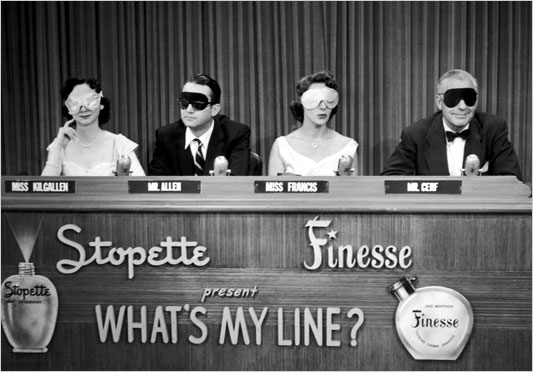 December 4, 2014
GSN Announces Holiday Marathons Including What's My Line and To Tell The Truth
Rarely seen color episodes of beloved classics return to the schedule this December.

2014 is winding down and GSN plans to celebrate the last few weeks of the year with specials, marathons, and some rarely seen favorites. There's a bit of something for everyone coming up. Take a look at what to expect.
*December 16th: Ben Gleib, host of GSN's Idiotest (which was recently renewed for a second season of 65 episodes) will host the special Game Show Flashback at 8:30PM. The show will take a humorous look back at some of the defining moments of game show history.
*December 21st: Classic fans should set the DVRs soon. GSN will air rarely-seen color episodes of What's My Line and To Tell The Truth featuring early appearances by game show queen Betty White. The panel show block will air from 11:00PM to 12:00AM ET.
*December 23rd: As we previously announced, GSN will debut its two hour special game show event The Line. Hosted by Jeff Davis and Candace Bailey, the traveling game show, taking place in Nashville, TN, contestants make their way through a line in order to win cash, prizes, and a chance at the Trivia Vault to win the jackpot.
*December 24th: Christmas Eve will present several different programming blocks containing something for just about any fan.
From 8:00AM to 12:00PM ET is Christmas-themed Press Your Luck.
Steve Harvey's Family Feud airs from 12:00PM to 1:00PM.
At 1:00PM ET is a repeat of The Line.
3:00PM to 6:00PM ET sees more Harvey Feud.
A seven-hour marathon of The Chase airs from 6:00PM ET to 1:00AM ET.
A 90 minute clip special What's My Line at 25 airs from 1:00AM to 2:30AM ET.
*December 25th: On Christmas day, a stack of clip specials airs from 1:00PM to 4:30PM ET, including Game Show Moments Gone Bananas, TV's Funniest Game Show Moments, and Game Show Flashback. An Idiotest marathon then airs from 4:30PM to 2:00AM ET.
*December 26th: Spend the day after Christmas with a marathon of Steve Harvey's Family Feud from 8:00AM ET to 8:00PM ET.
*January 1st: Finally, ring in the new year with a marathon of Baggage, ahead of its revival Baggage on the Road in 2015. A marathon of the Jerry Springer-hosted dating game airs from 4:00PM ET to 8:00PM ET followed by a new one-hour special Baggage: Most Outrageous Moments at 8:00PM ET.
Looking forward to any of the special days GSN has planned?