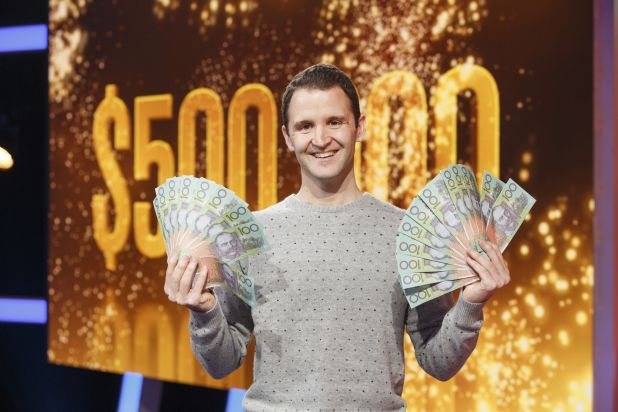 July 8, 2014
Jonathan Maher Wins $500,000 on Australia's Million Dollar Minute
History was made today as Jonathan Maher wins the biggest prize in daytime Australian game show history.

It's been a long road and there have been multiple attempts, but the confetti fell on today's Million Dollar Minute. Jonathan Maher, a lawyer from Melbourne, took away the second biggest prize possible from the popular Australian quiz show airing daily on Seven Network.
Jonathan finally succeeded his $500,000 minute on the third attempt and elected to walk away. He leaves with a grand total of $510,500; the highest prize ever won on a daytime Australian game show. Just below him is Pierre Sutcliffe who won $503,000 in May. You can watch the full episode of a recent $300,000 win below.
For those that haven't seen it, Million Dollar Minute is essentially a modern take on the Sale of the Century/Temptation format without the shopping. Various quiz rounds are played for points. Bribes are offered during the show where contestants can take guaranteed safe cash in exchange for losing points.
The eventual winner plays the titular Million Dollar Minute for an increasing jackpot. It starts at $20,000 and grows each Minute won.  After each game won you can elect to stop with your jackpot or come back for another attempt at the Minute. It all culminates in a $1,000,000 jackpot on the eighth successful Minute. It has yet to be won, though someone came awfully close.
If you're a regular reader you may remember the incredible run of Lisa Paton who gambled her $500,000 three separate times in an attempt to win $1,000,000. However, she ended up losing a match and dropped back to $75,000.
It's a fun quiz show that's been providing some jaw-dropping moments recently and I'm glad to see it succeed. It's fast, it's fun, and it's undeniably exciting when someone gets this close to the big win. Again, be sure to watch the full episode of a recent $300,000 win below and let us know what you think of the show. Is this something you'd like to see in your country?
[youtube http://www.youtube.com/watch?v=APU2XjrS3Ag]