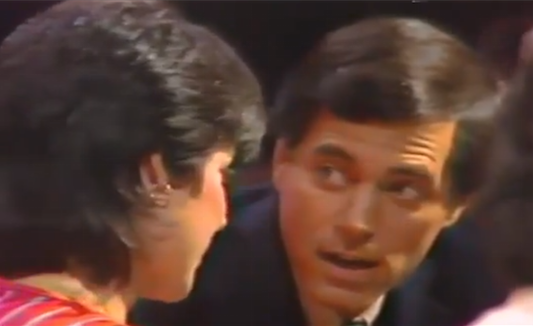 July 1, 2014
Newly Unearthed "Press Your Luck" Clip: April Fools', Peter!
An unaired clip of the 80s favorite features our charming host dealing with some not-so-charming contestants.
There was something in the water in this 1984 episode of Press Your Luck…or was there?
To celebrate April Fools' Day, the producers of the CBS game show decided to saddle Peter Tomarken with a trio of players who seemed, at that particular moment, as if they'd rather be anywhere else in the world. Watch above as our host sings for his supper and tries to wrestle some semblance of excitement from the contestants—who, of course, are in on the joke.
This clip is brought to you by Wink Martindale's official Facebook page—the game show icon's social media team has been releasing a slew of rare game show episodes, clips and photos over the past few months, and they show no signs of slowing down.