June 11, 2014
30 Years Ago Today, "Press Your Luck" Got Whammied
An enormous victory was celebrated in Los Angeles in the summer of 1984, and it sure wasn't at the Olympics.
You see, this whole mess—like many other messes—started back in the mid-80s.
After lending their experienced hands to the production of shows like The Newlywed Game and Give-N-Take, producer Bill Carruthers and his partner Bill Mitchell hit pay dirt with their newest creation, Press Your Luck. A reimagining of Second Chance, their similarly-structured yet unsuccessful late-70s ABC show, Press Your Luck aimed to be the biggest, brightest, most exciting game on television. Three players competed by answering host Peter Tomarken's trivia questions in exchange for "spins" on the show's iconic big board.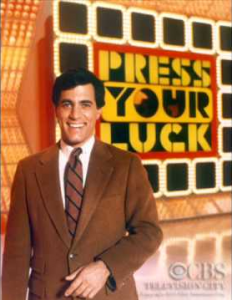 There, players had the chance to win untold sums of money and fabulous prizes by stopping a randomly flashing light on one of the board's 18 squares. The presence of the Whammy, a wisecracking red creature with a yellow cape and a cheesy grin, added an element of risk to the proceedings—stop that light on the Whammy, and he'd take everything you've earned up to that point, as well as put on a little cartoon show for you. During the taping of the pilot in mid-1983, it became evident that this game was capable of producing excitement the likes of which had never before been seen on television. CBS accepted the Carruthers Company production, and Press Your Luck premiered on Monday, September 19, 1983.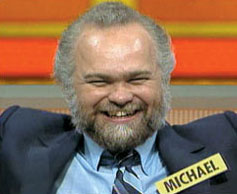 While ecstatic, sweater-clad contestants clobbered their buttons and claimed king's ransoms of cash, Michael Larson was watching. Larson, an unemployed Ohio native with a long, sordid history of perpetrating get rich quick schemes, was "enjoying" the off season after working in the summer of '83 as an ice cream truck driver. At that time, staying home to watch TV on a weekday morning meant game shows, and lots of them. In addition to the many games aired by the other two networks, CBS offered The $25,000 Pyramid, Child's Play, and of course, The Price Is Right. However, Michael was drawn to Press Your Luck.
It would have been hard to blame him—the show's main set piece, a game board consisting of countless flashing light bulbs and 18 constantly-rotating slide projectors, would have been the death of many a mosquito had it been hanging on a front porch. Combine the blinding fluorescent visuals with the scores of ten-second cartoon exploits of the Whammy (devised by Eek! The Cat creator "Savage" Steve Holland and voiced by Press Your Luck creator Bill Carruthers), and the result was a half-hour of entertainment that enthralled children and stay-at-home parents alike. Ah, but of the thousands of lights on the screen, only one of them caught Michael's eye. That board—could it really be random? And if it wasn't random, could Michael figure out what makes it tick?
Each square on the Press Your Luck board was surrounded by randomly chasing lights, and it was these lights that determined what a player landed on. When the board would "spin", as the host would say, the contestant in charge would hit a button on their podium (typically accompanied by the war cry "STOP!") to freeze the board in its position. The light would remain illuminated around a square, and whatever was contained within was the fate of the contestant, be it a prize, cash, or a dreaded Whammy.
That word, though. Randomly. Michael didn't buy it. Armed with a remote-controlled VCR and dozens of taped reruns of the show, Michael analyzed the big board rounds frame by frame. One fateful day, he got it—the lights flashed in predictable patterns around the board. Theoretically, all he had to do was make it on the show, and he could take CBS for all they were worth.
Theory became law in May of 1984 when Michael, armed with a 65-cent shirt from Goodwill and a brain full of patterns, made it from Ohio to Los Angeles and successfully auditioned for Press Your Luck. May 19 is a day that will live in game show infamy, for that is the day when Michael Larson took the stage at CBS Studio 31 to play the game he had practiced at home for so long. This was his chance.
https://www.youtube.com/watch?v=pkM10SxmmwU
Even if armed with all the VCR remotes in the world, Michael Larson could have never predicted the number of spins he'd have in the collective conscience of pop culture. When the unprecedented two-part episode aired in the summer of 1984, fascinated viewers propelled what was already a moderately-popular daytime program to the top of the Nielsen charts.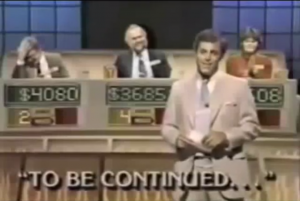 Once the dust had settled, and Larson emerged from the rubble with $110,237 in cash and prizes, he was the subject of news features across the country. In 1994, the sudden interest in the seamy underbelly of television games (for which the Robert Redford film Quiz Show was certainly a catalyst) once again made Larson, who was interviewed for ABC's Good Morning America that year, a relatively hot topic. In 2003, GSN told the Larson story—the good, the bad and the Whammy—in a documentary called Big Bucks: The Press Your Luck Scandal. Until the 2012 premiere of The American Bible Challenge, the one-hour special which featured the first ever re-broadcast of the infamous Larson episodes was the highest-rated original offering in the 20-year history of the network.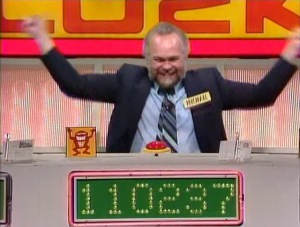 When the CBS suits learned what had transpired, they, of course, tried desperately to label Larson as a cheater and deprive him of his winnings. As it turned out, however, there was no clause in the contestants' agreements that said they were't allowed to be clever and expose the game's Achilles' heel. The network relented, and Michael made his money. He didn't keep the cash for long—after a series of failed ventures and a home invasion in which the robbers stole about $50,000 in dollar bills saved for a radio contest, Larson lost just about all of it.
After years of working odd jobs and trying in vain to get CBS to put him on a proposed Press Your Luck Tournament of Champions, as well as a federal investigation into a massive pyramid scheme in which he was involved, Michael Larson died of throat cancer on February 16, 1999. Years after his death, the Chicago public radio series This American Life told Michael Larson's story with the help of his brother, James. Ed Long and Janie Litras-Dakan, the two losing contestants on Michael's big day, were also invited to play against James Larson in a rematch on GSN's Whammy! The All-New Press Your Luck in 2003.
At their heart, many game shows are inherently a conflict between man and machine. When Michael Larson took to that mechanical neon game show Goliath, his battle not only set records and created television history, but it also served as an example of the pure entertainment that can come from a perfectly-crafted game show.
Well, almost perfect.