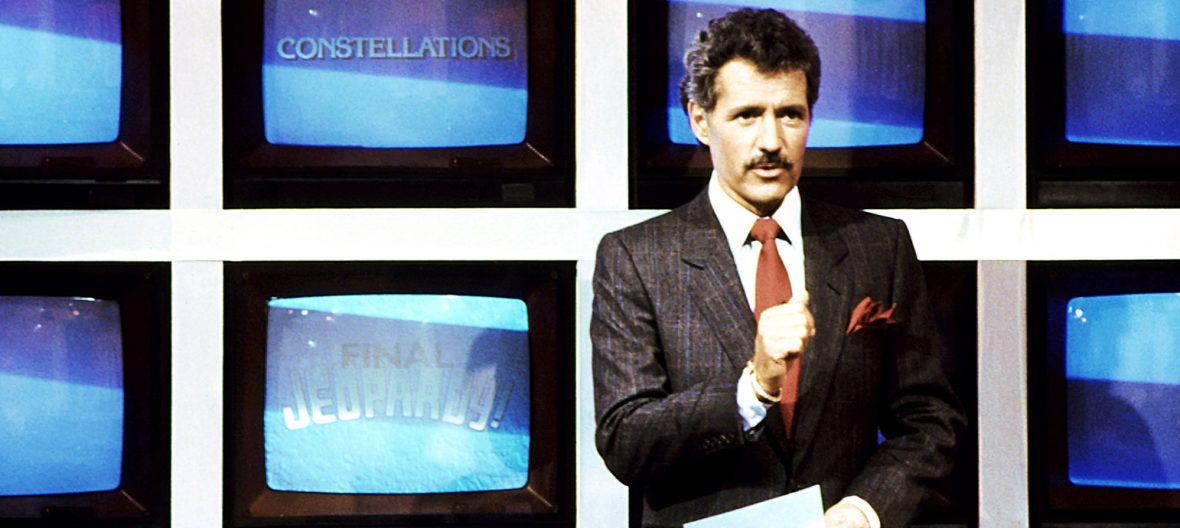 November 8, 2020
Alex Trebek, 80
TMZ reports the long-time Jeopardy! host succumbed to his pancreatic cancer.
Alex Trebek, the iconic host of Jeopardy! for 36 years, and whose career in broadcasting spanned two countries and seven decades, has died at the age of 80.
The official Jeopardy! social media accounts confirmed on Sunday morning that Trebek passed away peacefully, surrounded by his family, after a highly-publicized battle with pancreatic cancer.
Born in Sudbury, Ontario, Canada on July 22, 1940, George Alexander Trebek grew up in a French-language household and worked in the hotel industry as a bellhop before attending Sudbury High School and the University of Ottawa. A member of the university debate team, Trebek showed an early interest in becoming a broadcast newsman.
In 1961, even before his graduation from the University of Ottawa (where he eventually earned a degree in philosophy), Trebek began his on-air career at the Canadian Broadcasting Corporation, where he was relied on for everything from news reading to color commentary for curling matches. Two years later, Trebek emceed his first television program, a music program called Music Hop that was not dissimilar to American Bandstand in the States. This was followed in 1966 by his first straight game show gig as host of Reach For The Top, an enduring high-school quiz bowl program that broadcast both English-language and Quebecoise versions (Trebek spoke English and French fluently, due in part to his bilingual childhood). Other hosting jobs soon followed—the game show Strategy in 1968, a morning-drive radio show called I'm Here Til 9, and as the presenter of classical music by Canadian pianist Glenn Gould.
In 1972, thanks to a glowing endorsement from his friend and fellow Canadian TV personality Alan Thicke, Trebek was hired by producer Burt Sugarman to come to California and host his new NBC daytime game show, The Wizard of Odds. In what would be his first national exposure on American screens, Trebek served as master of ceremonies in this audience participation show, wherein contestants were plucked from the audience and invited to play any of several games, the conceit being that all the answers to Trebek's questions in each game were numerical. Wizard of Odds never achieved as much ratings success as the show it replaced, Sale of the Century, and as a result lasted less than a year.
However, Trebek's superb performance as host of Odds ensured that American audiences would see a lot more of him throughout the 1970s. In 1974, after Wizard of Odds came NBC's High Rollers, a dice game based on the old sailors' diversion Shut The Box and featuring contestants rolling oversized dice to eliminate the numbers 1 through 9 from a board loaded with prizes. Trebek co-hosted with actress Ruta Lee except for two weeks' worth of shows in which Leslie Uggams acted as substitute hostess, likely the first such role for an African-American woman on television. When High Rollers was cancelled in 1976, Trebek jumped to CBS and presented a challenging quiz show called Double Dare (no relation to the later Nickelodeon series). High Rollers was later revived with original host Trebek and aired on NBC from 1978 to 1980.
In 1981, Trebek became the host of Pitfall, a syndicated game show produced in Canada by Catalena Productions. The set of Pitfall, complete with eight full-size elevator shafts that formed a bridge that contestants attempted to cross, was larger than life. Unfortunately, so were Catalena's financial problems. Most contestants and crew, including Trebek, were not paid for their efforts due to Catalena's 1982 bankruptcy. In later years, Trebek would cite Pitfall as the one instance in his broadcasting career where he was stiffed for his paycheck.
The phenomenal success of Wheel of Fortune's 1983 foray into syndication intrigued its creator, Merv Griffin, who soon after laid out plans to revive Jeopardy! in a similar fashion. After offering the job to original emcee Art Fleming, who respectfully declined, Alex Trebek was asked to host this new version of the answer-and-question game. After some negotiations—resulting in Alex signing on as host and producer of the program in order to maximize his pay—the new Jeopardy! hit the air in September of 1984.
Initial reactions were mixed. The show was seen by some critics as having been dumbed down from its NBC source material, with a flashy set, a wall of TVs and the guy from High Rollers hosting. In addition, many stations aired this new syndicated series late into the night, or in other time periods that were not as easily accessible to the mass viewership. Despite these obstacles, Jeopardy! persevered and, along with Wheel, became one of the two most popular (and bankable—the rights were sold to Coca-Cola by Merv Griffin in the late 80s for over $200 million) series in television history.
Even as Alex Trebek became one of the most trusted, iconic personalities on television, he still found time to host other series. In 1987, he returned to NBC to host Classic Concentration, an updated version of the classic picture-puzzle game. 1991 saw him take over for Lynn Swann as host of a remake of the panel game To Tell The Truth, making Trebek one of the few hosts to enjoy three simultaneous first-run hosting jobs. Trebek also lent his talents to the National Geography Bee from 1989 to 2013.
Jeopardy!, however, remains Trebek's crowning television achievement. Apart from winning more Emmys than any other game show in television history, the show and its host have been the subject of a wide variety of parodies, spoofs, and plotlines in other media ranging from White Men Can't Jump to The Nanny to Cheers to The Simpsons. The show's iconic think music is, similarly, an enduring element of American pop culture.
Reactions to Trebek's death have poured in from around the globe.
Per an announcement from the staff of Jeopardy!, Alex Trebek's final episode as host will air on Christmas Day.
Alex Trebek is survived by his wife, Jean, their two children, Matthew and Emily and his adopted daughter from a previous marriage, Nicky.