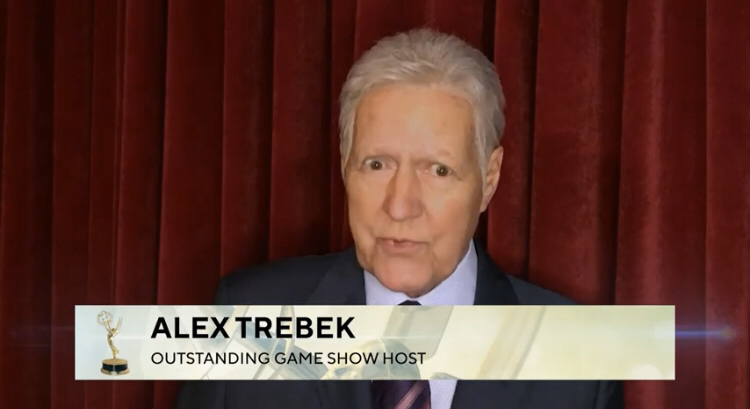 June 26, 2020
Alex Trebek and Jeopardy! Sweep Game Show Emmys
The quiz show and its longtime host took the awards during Friday's Emmy ceremony.

Alex Trebek has won his seventh Emmy award for outstanding game show host.
The longtime host of Jeopardy took home the trophy at the Emmys ceremony Friday night on CBS. Trebek beats nominees including Steve Harvey of Family Feud, Pat Sajak of Wheel of Fortune, Wayne Brady of Let's Make A Deal, and Alfonso Ribeiro of GSN's Catch 21.
"I'll be honest with you, this one is a shock—very surprising to me," Trebek, who is the most nominated game show host in Emmy history, said during his acceptance speech.
Trebek, who was diagnosed with Stage IV prostate cancer late last year, has been off the job for some time, with Jeopardy having halted production due to health concerns amid the COVID-19 pandemic.

Jeopardy! also won the Emmy for Best Game Show, continuing its streak as the winningest game show in Emmys history. This was the last Emmy for the show under executive producer Harry Friedman, who in August of last year announced his retirement as exec producer of Jeopardy and Wheel of Fortune. Mike Richards (The Price is Right, The Pyramid) will take over as executive producer of both shows at the beginning of the 2020-21 season.