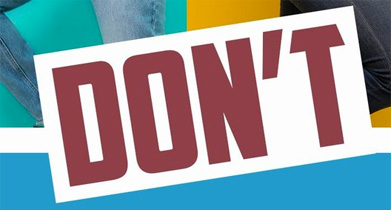 April 30, 2020
ABC's Don't Debuts June 11th
You "Don't" want to miss ABC's new summer game show. See what we did there?
Announced more than a year ago, ABC has finally scheduled its new game show Don't. The series will debut on Thursday, June 11th, at 9:00PM ET. Don't will be surrounded by fellow Summer games Holey Moley II: The Sequel and To Tell The Truth. 
Hosted by Adam Scott (Big Little Lies), Don't sees members of a four-person team try to accomplish various challenges with certain twists like "Don't Blink", "Don't Look Back", and "Don't Play Ball in the House". The team try to build their bank up, but fail and they don't earn money and suffer ridiculous consequences.
Along the way, they'll have the choice to take risks by pushing the Don't Push Button or taking a chance on a Don't You Dare, You. In the end, whatever money they have left in their bank – if anything – is theirs to keep. The series is voiced by Ryan Reynolds and features hilarious, unexpected moments that break from the traditional game show format.
Here's a quick look at what to expect in June. Are you excited to see it?
Photo and video courtesy ABC. Don't was recorded prior to the Covid-19 pandemic and will have a studio audience.