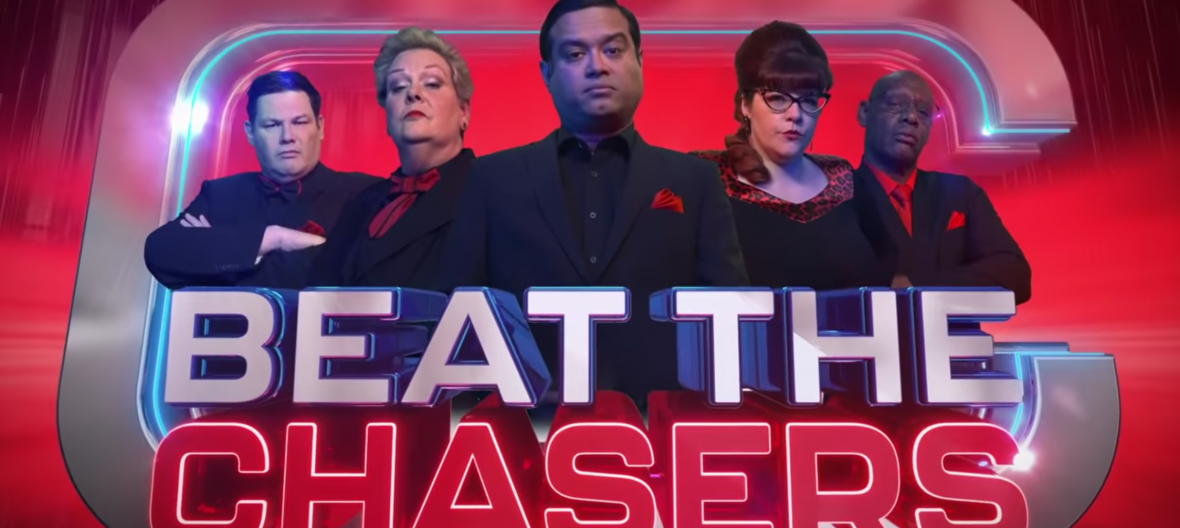 April 28, 2020
Watch: One Contestant Versus Five Chasers on Beat The Chasers
Can one person take down all five Chasers? Find out in ITV's newest quiz show.
This week ITV launched the first spin-off of The Chase: the new quiz show Beat the Chasers. The show sees a series of contestants face off against two, three, four, or all five Chasers for increasing amounts of cash.
Contestants first face up to five multiple choice Cash Builder questions for £1,000 a piece. The round ends when the contestant gets a question wrong, and if the first question is answered wrong the contestant is immediately eliminated. The contestant then faces off against The Chasers. Each team gets 60 seconds on their clock. Initially the contestant may face off against two Chasers with 20-30 seconds off the Chasers' clock for the money earned. More Chasers are added onto the team, offering more money but less of a time advantage. If the contestant is very confident, he or she can face off against all five Chasers for very big money but a very small time advantage.
After accepting an offer, the contestant's clock starts and he or she is given a question. A right answer stops their clock and starts the Chaser's clock, while a wrong answer keeps the clock running until a right answer is given. The process is repeated for The Chasers, who must buzz in to answer. If the player's clock hits 0 he or she leaves with nothing. However, if the Chasers reach 0 first, the player wins the money they're playing for.
We're fans of it and Twitter and Discord seems to agree. It's a fast paced, exciting, and entertaining hour. It's also nice to see the chess clock mechanic work so well for a change. We wish the Cash Builder round was a little more interesting and that it included the Chasers a bit more, but the Beat the Chasers round is thrilling television and all have been must-see. The first episode scored 5.7 million viewers so it's doing well thus far. The first series is stripped across the entire week and it'll be interesting to see how it fares as the week progresses.
Have you seen it yet? Check out two clips below featuring two different contestants trying to take down the entire team of The Chasers.
What do you think? Would you want to see this in America? I could see this working well in America and I'm excited to see where this format ends up.