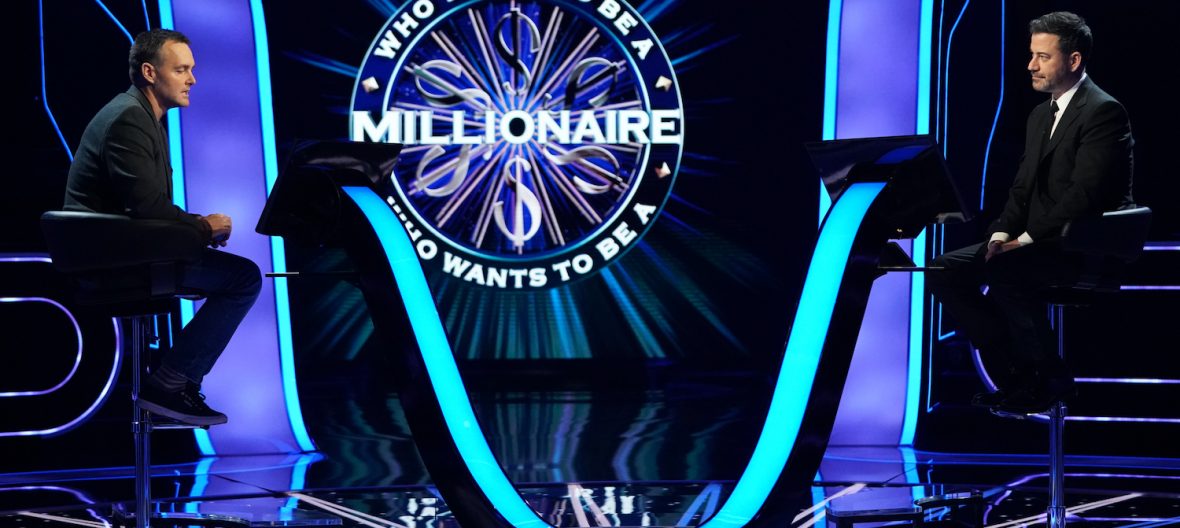 March 26, 2020
Here are the Celebrities in the Hot Seat on Who Wants to be a Millionaire
Catherine O'Hara, Anthony Anderson, and more are playing for a million dollars as the iconic quiz show returns.
Who Wants to be a Millionaire returns to network television in just two weeks. Starting Wednesday, April 8th (10:00PM ET), the iconic quiz show comes back to ABC for a 20th anniversary celebrity series with new host Jimmy Kimmel.
Contestants will need to answer fifteen increasing difficult questions to win the $1,000,000 as the classic format of Millionaire returns. Three Lifelines are available: 50/50, Phone A Friend, and Ask the Host*. The contestant has an Expert sitting behind them to help out on the first ten questions. After that the contestant is on their own…unless they want to trade a Lifeline to get assistance from their Expert one final time. A live play-along app will allow viewers to compete at home. More information on that will be out soon.
Curious who's playing this season? Here's a list of who you can expect to see playing, what organization they're playing for, and if we know their Expert.
Eric Stonestreet (actor, Modern Family; competing for Building Hope for Autism; Expert is Danny Zuker)
Will Forte (actor, Saturday Night Live; competing for The Pangea Network; Expert is Reb Forte)
Kaitlin Olson (actress, It's Always Sunny in Philadelphia; competing for Cystic Fibrosis Foundation)
Lauren Lapkus (actress and comedian, Orange is the New Black and Crashing; competing for Crohn's and Colitis Foundation of America)
Nikki Glaser (comedian and host; competing for Rescue the Birds; Expert is Dr. Drew)
Ike Barinholtz (actor, The Mindy Project and Live in Front of a Studio Audience; competing for Hollygrove)
Dr. Phil (TV host, competing for When Georgia Smiled)
Catherine O'Hara (actress and comedian, Schitt's Creek and SCTV, competing for Upward Bound House; Expert is Brad Rutter)
Anthony Anderson (actor and comedian, Black-ish; competing for the Anderson Family Foundation)
Jane Fonda (actress, Grace and Frankie; expert is Louis Virtel)
Photo courtesy ABC
*Note: there is no Ask the Audience lifeline because the series taped without an audience due to Coronavirus concerns.