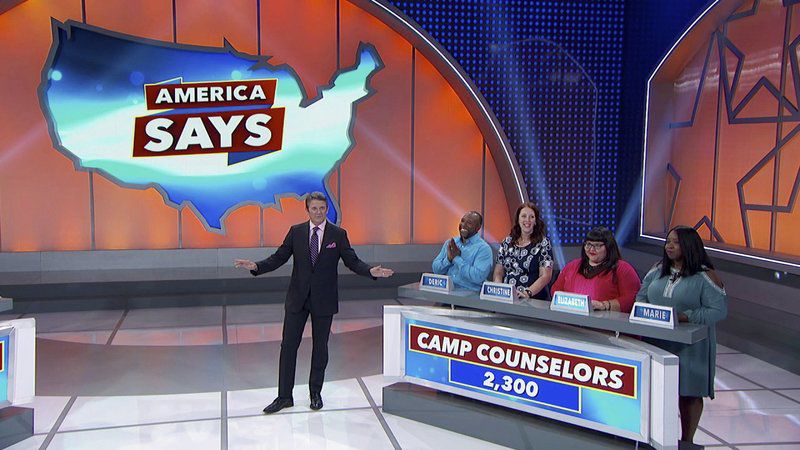 June 12, 2019
Game Show Network's America Says Enters Syndication for Fall 2019
The hit Game Show Network original may be airing on a local station near you this fall.
Good and slightly unexpected news: Game Show Network's hit original game show America Says is entering syndication this fall. Sony and Game Show Network are teaming up to bring the John Michael Higgins-hosted game to local stations. It's cleared 85% of the country and involves a large number of station groups like Fox, Sinclair, CBS, Cox Media, Tegna, Nexstar, Mission, Gray and Lockwood.
America Says asks two teams of four to answer several fill in the blank survey questions. The winning team has a chance at $15,000 in the bonus round. If you've not seen it, the best comparison is a mix of a clean version of Family Feud and the short-lived 80s game show Talk About. It's a fun show and nearly impossible not to play along at home, so check it out if you get a chance.
Game Show Network president Mark Feldman said, "We are thrilled by the fantastic response of our audience to America Says and incredibly proud of the work of our host, the amazing John Michael Higgins, who is an absolute pro. It is a privilege to work with him. We are excited that more viewers across the country will be able to enjoy the family-friendly fun, intrigue and laughs of this terrific program."
America Says enters the syndication market alongside 25 Words or Less hosted by Meredith Vieira. Both are filling the hole created by the cancelation of Who Wants to be a Millionaire.