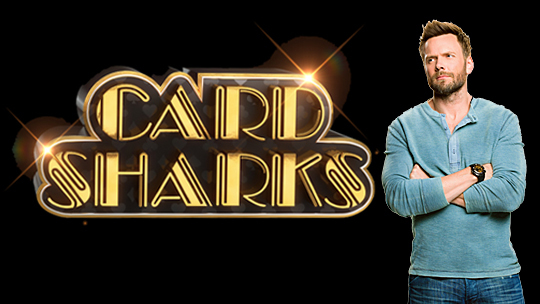 April 28, 2019
Details on ABC's Card Sharks Revival
Fans of the classic 1970's edition of Card Sharks will be very happy.  Fans of people gambling hundreds of thousands of dollars on the turn of a card will also be happy.
ABC began recording their updated version of Card Sharks this weekend. The series (Wednesdays at 9:00PM ET starting June 12th) will be part of the network's Wednesday evening "Summer Fun and Games" lineup, sandwiched between Press Your Luck at 8:00PM and Match Game at 10:00PM. Joel McHale hosts. Like other recent game show revivals, great care has been taken to preserve what was beloved about the original series while modernizing it for today. The results should make everyone pretty happy.
We've got some details describing what to expect when Card Sharks returns to the air for the first time in almost 20 years. These are taken from various audience reports we've received and they've all backed each other up so you can take this as pretty reliable. We've bolded some key things to take away.
*Two contestants will play each game. The goal is the same as the classic version: the player in control answers a survey question and the opponent guesses if the actual answer is higher or lower. If the opponent is correct, the opponents gets to play his or her cards. Otherwise the player in control gets a shot.
*Unlike the 70s version where contestants had to call five cards high or low, contestants must call their own row of ten cards. Bad guess takes you back to your starting point and gives your opponent a chance. You can still freeze if you're afraid and your starting point moves to your location.
*Fifth question is sudden death where someone must win or lose. The contestant who correctly makes their way across their row of cards or whoever wins sudden death wins the game and $10,000 to use as gambling money in the Money Cards.
*The Money Cards is now one long row of seven cards. The first card is flipped and the champion can gamble any or all of their winnings on the next card being higher or lower. Minimum bet is $1,000. You can change a card once.  Important to note that, like the original 70s version, a push (next card being the same as the card you're on) counts as a loss.
*The sixth and final wager is the Big Bet where a contestant has the option to gamble or cash out with his or her winnings. If the contestant chooses to gamble, he or she must wager at least half of the bank. This means a contestant can walk away with $640,000.
*The look and feel of the show will be a high-end casino this time. Also you can expect to hear something like the classic theme and poems just like the 70s. To bring the casino theme home more, contestants in the Money Cards also place Higher or Lower chips on a table and lock in their wagers. It's giant money this time, can't be too careful.
Excited for what's to come? Sounds like a great revival and the reports back from audience members has been very enthusiastic.