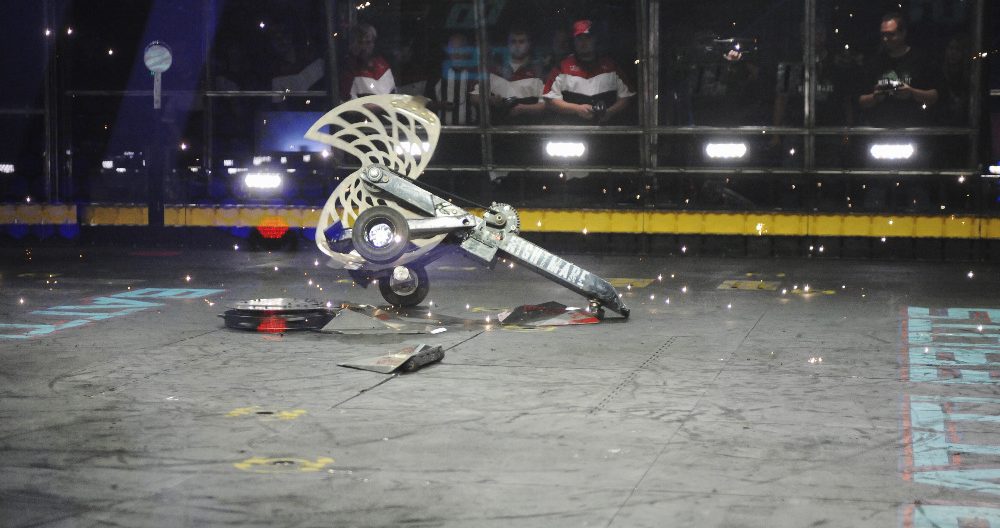 February 7, 2018
BattleBots Revived for Third Season on Discovery and Science Channel
It's robot fighting time again!
It's time for the sparks and metal to fly yet again. Per THR, Discovery has announced a revival of the cult classic series BattleBots. The newest season, the first since 2016 and third season this decade, will air this Spring on Discovery and Science. BattleBots first aired on Comedy Central between 2000 and 2002. ABC then revived the series for two seasons in 2015 and 2016. Science has been airing reruns of the ABC version since 2017.
Each match sees two homemade robots enter the arena, with their builders operating them outside the glass. In each three-minute single-elimination match, robots try to crush, smash, burn, dismember, and destroy the competitor to become the victor. If at the end of time no robot is broken, the judges decide a winner. Winners advance through the tournament until an ultimate champion is found.
BattleBots co-founder Ed Roski stated "In BattleBots, anyone can be the champ, and all are welcome to apply. This is a sport for smart people where it's all about ideas and building something cool. BattleBots is a fight to the death, but no one gets hurt. It's the place to show off your imagination, your engineering prowess and art, and your ability to make it survive — and we couldn't be happier bringing BattleBots to Discovery. In my opinion, Discovery is the TV network where BattleBots has always belonged."
If you missed the ABC run of BattleBots it's highly encouraged to check it out. It was one of the most all-around enjoyable and fun series to air in a long time. And we're glad to see the robot mayhem continue this year.