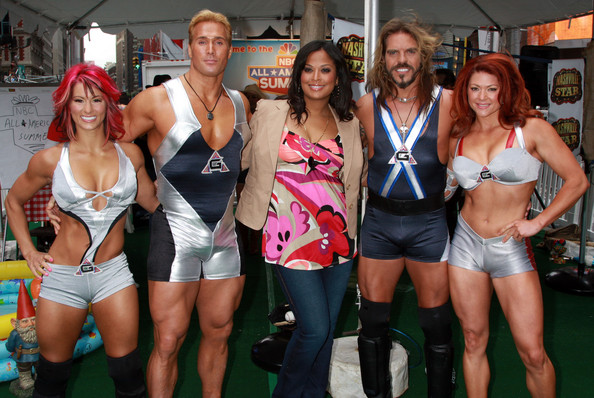 January 12, 2018
Close-Enough Game Show Anniversaries for January 12th
It's close enough for us to celebrate! Take a look back in game show history and see what shows are celebrating milestones.
January 6, 2013: Thank (or blame) the 2007-2008 Writers Guild strike for NBC's revival of American Gladiators. Now hosted by Hulk Hogan and Laila Ali, it's essentially the same show as before but WWE-ed up to a degree. Fan favorite games like Assault, Atlasphere, Joust, and Powerball returned as well as new games like Rocketball. A third season was announced for Summer 2009 but NBC cancelled the series before it recorded.
https://youtu.be/DACiw0_Jhn4
January 6, 2003: Remember the PAX network? They debuted the game show Dirty Rotten Cheaters 15 years ago. Bil Dwyer hosted the trust-based quiz show. Each episode saw six players attempt to answer survey questions. The more obscure the answer, the more money its worth. However, one person received all the answers beforehand and is the titular Dirty Rotten Cheater. If the Cheater doesn't get caught at the end of the show, he or she wins all the money the Cheater collected. Otherwise, the honest player takes home his or her cash.
January 6, 2003: GSN had a boom of critically acclaimed and popular game shows in the early 2000s. Fifteen years ago the network launched the quiz show Cram, continuing that streak. Cram was hosted by Graham Elwood and Berglind Icey. The show saw contestants locked in a store front for 24 hours with study material that will help them on the test. After 24 hours the sleep-deprived contestants are rushed to the studio and play the quiz with some stunts thrown in. The day's winning team can win $10,000.
January 3rd, 1983: 35 years ago the quiz show Sale of the Century was revived both on NBC and in syndication. The long-running game, hosted by Jim Perry, asked contestants a series of questions worth $5 a piece. Throughout the show contestants were tempted to buy products at severely discounted prices (for instance, a prize worth $1,000 could be on sale for just a few dollars). The day's winner could buy a severely discounted prize from the final Sale of the Century or risk it all by banking the cash, returning the next day, and trying to buy something even more valuable.