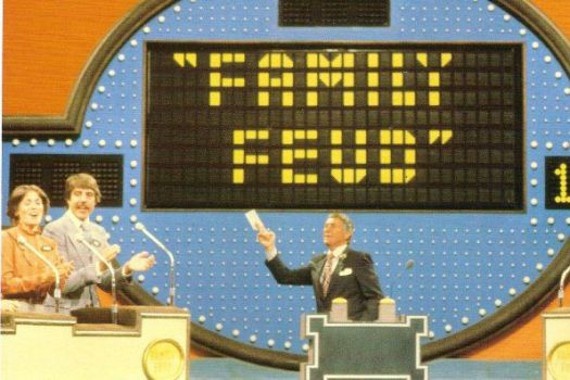 July 12, 2016
Family Feud Turns 40
Happy 40th birthday to Family Feud!
Today is a very important milestone in game show history. The Family Feud format debuted today, July 12th, in 1976. Spun off from Match Game's bonus round, Feud still ranks today as the most watched game show on US television and shows no signs of stopping. Coincidentally, the mother show, Match Game, and Feud can be seen together on ABC every Sunday, the network where Feud first launched.
The show has bounced between basically every network (ABC, CBS, NBC, and syndication) in both daytime and primetime, and has seen a number of hosts, each of which brought something new and unique into the Feud format (Richard Dawson, Ray Combs, Louie Anderson, Richard Karn, John O'Hurley, Al Roker, and Steve Harvey). However, Feud is one of those rare formats that's relatable in any decade and will bounce back as long as the medium is around. It's a format strong enough to work with basically any talent at any place at any time. It's universally fun and impossible not to play along with.
Congratulations to everyone involved on such a momentous occasion.
To celebrate, take a look below at the very first episode of the show featuring Richard Dawson. It's amazing that, even though we're 40 years removed, the show essentially looks, plays, and feels the same today.