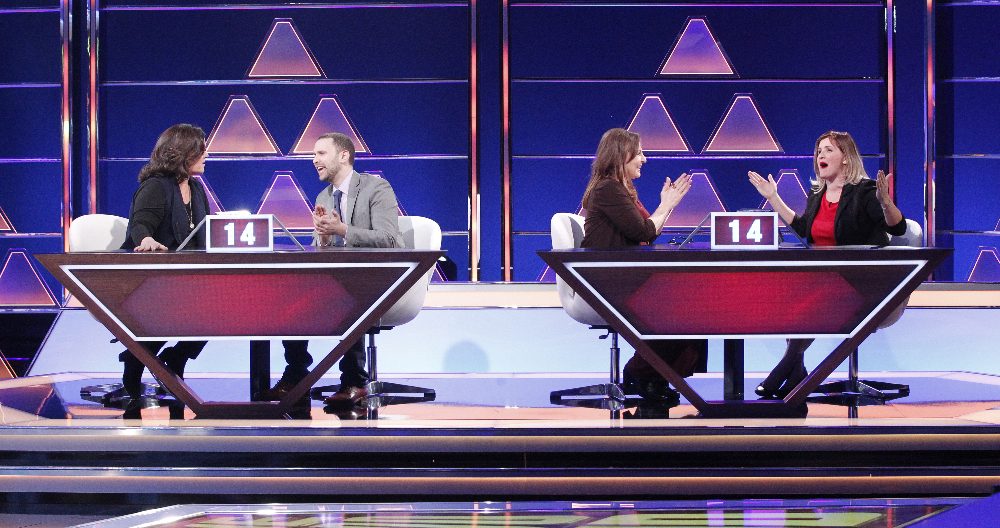 June 27, 2016
ABC's Sunday Fun and Games Launches Strong
I think we're looking at a bright future for ABC's Sunday Fun and Games block.

UPDATE: More ratings are out and Pyramid was actually the top show of the evening. Pyramid got 7.79 million viewers and 1.7/5 demo. Family Feud scored 7.79 million and 1.5/5 demo. Match Game at 6.66 million and 1.5/5 demo.
It wasn't just us hardcore game show fans who were excited to see the launch of ABC's Sunday evening game show block. Viewers came in strong to see the return of classic game shows The $100,000 Pyramid and Match Game, plus the second season debut of Celebrity Family Feud. We'll see the key demographics later today (they still are incredibly important), but the early figures suggest a very promising start to the game show lineup and a hopeful outlook for the return of these shows full time.
Celebrity Family Feud launched to a 5.5/10 rating. It rose each half hour (5.2/9 at 8PM, 5.7/10 at 8:30PM). This is just barely below its launch last year at a 5.4/10. It trounced rival Big Brother which scored a 3.4/6 (combined). Like we said above, we'll see the key demo ratings later this afternoon but viewers are still coming in droves to see Steve Harvey.
The big shocker of the evening is that The $100,000 Pyramid scored just barely below Family Feud. The return of the iconic game show scored a 5.4/9 rating, just 0.1 below its lead-in, so nearly perfect retention. The half-hour breakdown saw Pyramid barely lose any viewers also. 9PM scored a 5.4 and 9:30 was at 5.3. Strong all around. This doubled the debut of BattleBots last season at a 2.7/5. Its closest competition was gymnastics on NBC at a 3.7/6.
Finally, the eagerly anticipated revival of Match Game came in just as strong as the previous two games, despite airing much later. The Alec Baldwin-hosted game launched to a 4.6/8 rating. It lost a bit of viewers each half hour (4.8 to a 4.3), but nothing alarming at all. This was nearly 3 points stronger than last year's Castle rerun on ABC in the same time slot. Its closest competition was, again, gymnastics on NBC at a 3.7/7.
If these numbers hold up strong next week, I think we're going to see a lot more Pyramid and Match Game in our future. Most importantly, the entire industry is watching to see how this lineup works and people who work in the game show business haven't been this excited for its prospects in a while. If this continues into next week and beyond, game shows are truly back.