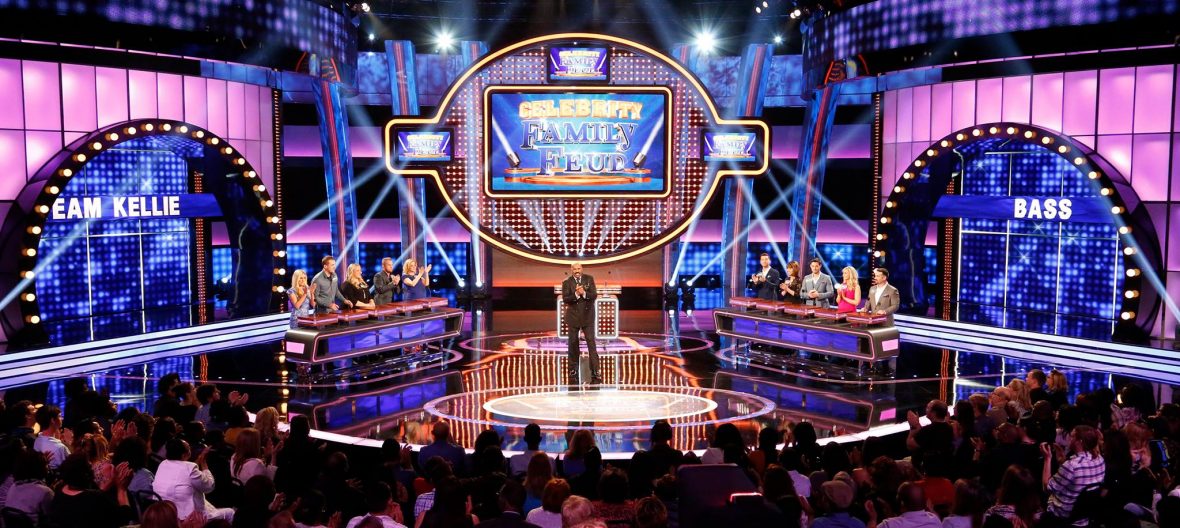 June 13, 2016
ABC's Sunday Fun and Games Schedule for Week Two
NFL fans have a full hour of Celebrity Family Feud to enjoy. Learn who's playing both the Feud and the Pyramid.

Just two more weeks until ABC's Sunday Fun and Games block begins. Each Sunday night you'll be able to see Celebrity Family Feud, The $100,000 Pyramid, and Match Game. Match Game tapes later this week so we'll get more specifics about who to expect in the next few weeks. In the meantime, ABC has announced the celebrity lineup for week two of the three-hour game show schedule, airing July 3rd.
At 8:00PM ET, Celebrity Family Feud features an NFL special. Game one sees AFC Offense facing off against NFC Defense. For AFC Offense, representing the charity Active Minds, is…
Brandon Marshall — New York Jets wide receiver
Steve Smith, Sr. — Baltimore Ravens wide receiver
Amari Cooper — Oakland Raiders wide receiver
Jeremy Hill —Cincinnati Bengals running back
Marcus Cannon — New England Patriots tackle
And NFC Defense, playing for Got Your 6, is…
Thomas Davis — Carolina Panthers linebacker
Terrance Knighton – Washington Redskins defensive tackle (now defensive tackle for New England Patriots)
Tyrann Mathieu — Arizona Cardinals defensive back
Malcolm Jenkins — Philadelphia Eagles safety
Cliff Avril — Seattle Seahawks defensive end
The second half hour turns the tables and has the AFC Defense playing against the NFC Offense. AFC Defense, playing for Still Strong Foundation, is…
AJ Hawk – Cincinnati Bengals linebacker (currently not signed to a team/free agent)
Tamba Hali — Kansas City Chiefs linebacker
Malcolm Smith — Oakland Raiders linebacker
Von Miller — Denver Broncos linebacker
Melvin Ingram — San Diego Chargers linebacker
NFC Offense players will represent the charity Professional Athletes Foundation and are…
Joe Staley — San Francisco 49ers offensive lineman
Teddy Bridgewater — Minnesota Vikings quarterback
David Johnson — Arizona Cardinals running back
Marvin Jones — Detroit Lions wide receiver
Pierre Garcon — Washington Redskins wide receiver
At 9:00PM is the second week of The $100,000 Pyramid. The first half hour is a Saturday Night Live showdown, with Ana Gasteyer and Rachel Dratch facing off. The second half hour features Good Morning America anchor Robin Roberts and comedian Mario Cantone. They'll be playing with Cody Ashford of Fresno, California; Kristin Bivona of Stamford, Connecticut; Eugene Byon of Houston, Texas; and Leigh Goldenberg of Philadelphia, Pennsylvania. Each episode sees two teams face off in the iconic word game, hoping to make it to the Winner's Circle and win over $100,000 in cash and prizes.