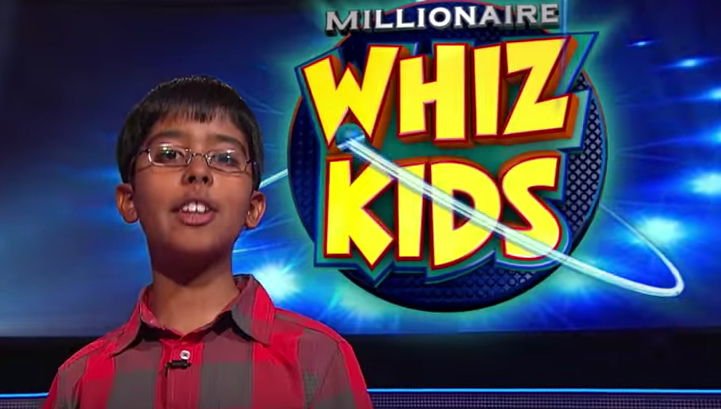 February 5, 2016
Watch: Adults are Horrible at Millionaire Math Questions
Next week is Whiz Kids week on Millionaire and adults should feel ashamed of themselves.

Be sure to check out Who Wants to be a Millionaire on Monday as they celebrate brainy youth with Whiz Kids week. Smart kids from across the country will stand at the table and play for $1,000,000. They'll have a bit of help with a special 4th lifeline, Cut the Question, which allows them to switch the current question for a new one. Check out a preview above with one contestant doing a relatively tricky mental math question, under the stage lights and eyes of the audience, for $7,000.
Seeing that kid do that question pretty easily in a few minutes, under those conditions, made us look back at how absolutely awful adult contestants are on math questions, but the kids do fine. There have been two kids weeks, they all get math questions, and they all do really well. Meanwhile the adult responses vary from flat out refusing to answer, complaining, or being so horrendous at math they laugh their way to losing everything. Check out a few highlighted moments below.
First, watch this whiz kid do an amazing job reasoning out this very tricky math question for a total of $65,600. This puts nearly all the adults in this situation to shame. And he did it while suffering through Terry Crews which is even more impressive.
[youtube https://www.youtube.com/watch?v=L7qkKP1iTEA&w=560&h=315]
And now let's get to the terrible adults. First, from early in the syndicated run with Meredith Vieira, this college student can't figure out what two numbers equal 25. The audience didn't help him either.
[youtube https://www.youtube.com/watch?v=BbX44YSsQ2I&w=420&h=315]
This lady couldn't figure out the time difference between 7:14AM and 5:11PM which, without a time limit, you should be able to reason out by just living a life.
[youtube https://www.youtube.com/watch?v=jmz39XOEHC4&w=420&h=315]
From late in Meredith Vieira's run as host, this contestant can't figure out how many times 6 goes into 99 and basically has a total mental breakdown. But she has an adorable giggle.
[youtube https://www.youtube.com/watch?v=7n644X0LkR4&w=560&h=315]
And finally, the queen of the of Awful Millionaire Math Club is Patricia Heaton (from Everybody Loves Raymond and The Middle). The editors made her look really, really good. We were on set that day. She took roughly 20 minutes to answer the question, literally refused to do it under Regis practically did it for her, and complained about getting the question.
[youtube https://www.youtube.com/watch?v=YtrZ4Dec6eo&w=420&h=315]
It's almost enough to make you just want kids on the show permanently.