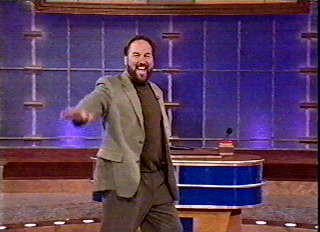 January 6, 2016
Watch: Reminisce How Bad Richard Karn Was at Family Feud
If you can make it through this awkward throw-to-commercial montage without stabbing your eyes with a pencil, you win a prize.

The 00s was a rough decade for America. George Bush was president, financial crises, numerous bubbles burst…plus Richard Karn hosted Family Feud. For four years. The mind reels. We've had Steve Harvey for the last six years and that's been going better than anyone expected. Let's go back to the dark days.
The second of the revolving door of hosts until Steve, from 2002 to 2006, was Home Improvement star Richard Karn. He did well enough to last four years. How viewers tolerated it I'll never know beyond the fact that, after all we went through as Americans during those years, anything short of being shot in the face would have been enjoyable. Take a look at this cringeworthy montage of Richard Karn throwing to commercial on Feud.
It's…rough…to say the least. OK, it's bad. It's really really bad.