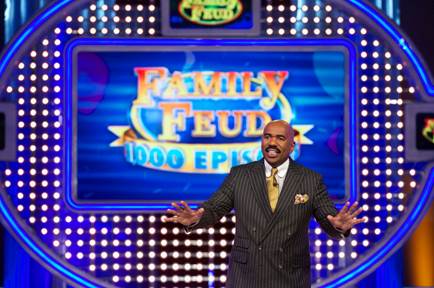 August 24, 2015
Family Feud Debuts New Season September 14th
This season Steve Harvey will celebrate 1,000 episodes hosting the long-running game.

The genre's biggest success story in over a decade is back for a new season. The syndicated game show Family Feud will launch the 17th consecutive season on September 14th. It's been 39 years since the Feud originally premiered on television—the original with Richard Dawson debuted in 1976—and Steve Harvey's sixth season as host.
Families from all over the country will answer surveys to try to win $20,000 each episode and, potentially, a new car for five day champions. Contestant auditions this year were held in Chicago, IL, Omaha, NE, Columbus, OH, Austin, TX, Louisville, KY, Birmingham, AL, San Francisco, CA, New York, NY, and Atlanta, GA.
Family Feud has seen a major ratings spike this year, averaging a 6.2 (up 24% year-to-year) and has overtaken Jeopardy and Wheel of Fortune recently to be the top rated game show in syndication. It's also flirted with being the top rated show in all of syndication. Be sure to watch this season and see how much higher it can go.