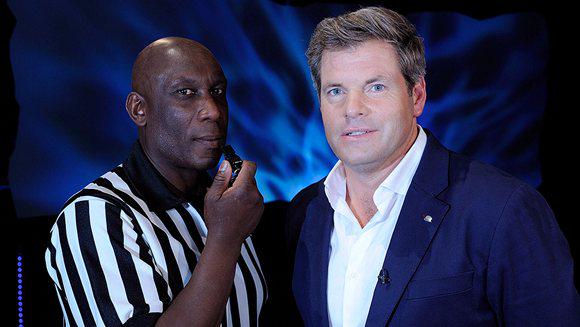 August 4, 2015
Watch: ITV Debuts Air Hockey Game Show Freeze Out
Yes, it's a game show that combines quiz and air hockey. We're not kidding.

You have to give some credit to networks like ITV, BBC, Fox, and many others that are trying unique games with big set pieces and gimmicks. Some stick and work really well, like ITV's Tipping Point and its penny pusher machine. Some don't work out that well, like Fox's Boom! and its bombs. But at least we're trying. Here comes the newest attempt. It's the ITV quiz show Freeze Out, and it's really weird.
Essentially, through a series of rounds, if you answer a question you get to send a slider out onto the ice court. Yes, it's an actual giant sheet of ice with overhead projection. It's pretty cool at first but becomes a bit "eh" after a bit. It's not the same wonder you get with Tipping Point's machine. You also get the incredibly weird element of an ice judge who we're reminded a few dozen times doesn't smile.
Freeze Out isn't bad at all. It's just really really weird. It almost feels like a parody to me. I'm curious what you think, though. Watch above. Apologies for the framed-in video. It's YouTube, not us.