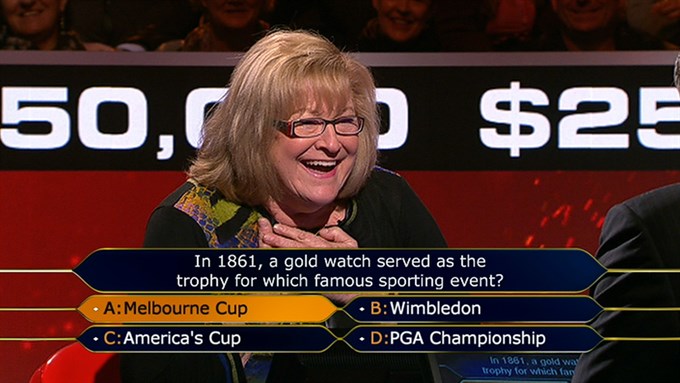 July 31, 2015
Watch: Dawn Simpson Wins $250,000 on Millionaire: Hot Seat
Watch a Batemans Bay resident take home Australian Millionaire's second biggest prize.

The biggest game show in Australia is still Hot Seat, the spin-off of Who Wants to be a Millionaire. For those who haven't seen it, it essentially puts six people in a competition to climb the money tree. No walking away and Lifelines except a pass, which puts you in the back of the line and lets the next person come to the Hot Seat. If you're right you move up the tree. Wrong and you're eliminated and the top value on the money tree gets knocked down a rung.
Since its launch in 2009 no one has won the $1,000,000 top prize. However, several have won the second biggest prize, $250,000, awarded to people who answer the 14th question (meaning only one question, collectively, was missed all episode). The newest quarter millionaire was crowned Tuesday.
65 year old Dawn Simpson won the $250,000 prize after instantly knowing the answer to the question "In 1861, a gold watch served as the trophy for which famous sporting event?" Dawn plans on using the money for charity, donating to remote indigenous communities as well as Alzheimer's Australia. Her husband suffers from the disease.
It's always great seeing such worthy contestants win big on game shows and we couldn't be happier to see the confetti drop for Dawn. Take a look at the big win above.