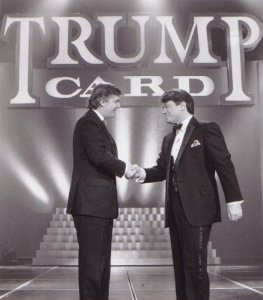 July 23, 2015
#tbt: When Donald Trump Wasn't A Psychopath on Trump Card
Check out this short-lived quiz show premiere featuring a non-presidential Donald Trump.

No story is dominating the media more right now than the calamity around Donald Trump's presidential run. It's been great for comedy, if nothing else. We like to try to bring current events into game shows as much as possible. Luckily this one was pretty easy: Donald's name was attached to the show.
Take a look above and remember the 1990 quiz show Trump Card.
Trump Card was recorded in Atlantic City at Trump Castle (now the Golden Nugget Atlantic City). For our UK readers, you may notice it's based on your long running quiz Bob's Full House. Each contestant gets a UK-style bingo card and answers questions to mark off squares. The player who completes his or her entire card wins and plays a $10,000 end game which you can see below.
Beyond the Donald Trump reference, the Trump Card was a special element each player could use on another opponent once per game. If used on someone, that person was given a penalty of a half-second buzzer delay. The only way to get rid of the Trump was to give a correct answer.
Unfortunately there's no way to get rid of the current Trump problem like this.