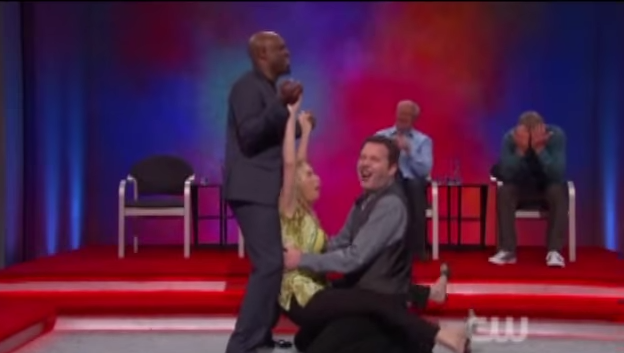 July 15, 2015
Watch: Kathie Lee Gifford Humps Brad Sherwood on Whose Line is it Anyway
Brad may need a therapist after Monday's episode of Whose Line is it Anyway?

Are you watching Whose Line is it Anyway?, Mondays on The CW? You should be. If you didn't watch this past Monday, you missed an episode that's up there with the all-time memorable ones through the show's long history. It was a hysterically awkward and bizarre episode that combined classic callbacks, unbelievable comedy from the panel, and more displays of how awesome host Aisha Tyler is.
Today host Kathie Lee Gifford, the week's star guest, was invited to play a few games. Kathie participated in Song Styles with Wayne Brady and Brad Sherwood. Words really can't do justice to what happened during the game. Brad may need a restraining order, though. Hats off to Kathie Lee. She's very funny and was a great sport. If you've seen the fourth hour of Today you have some idea of what can occur when she's on. Be sure to keep watching for a very touching moment by Aisha Tyler.
Thanks to @Weather_22 for the video!