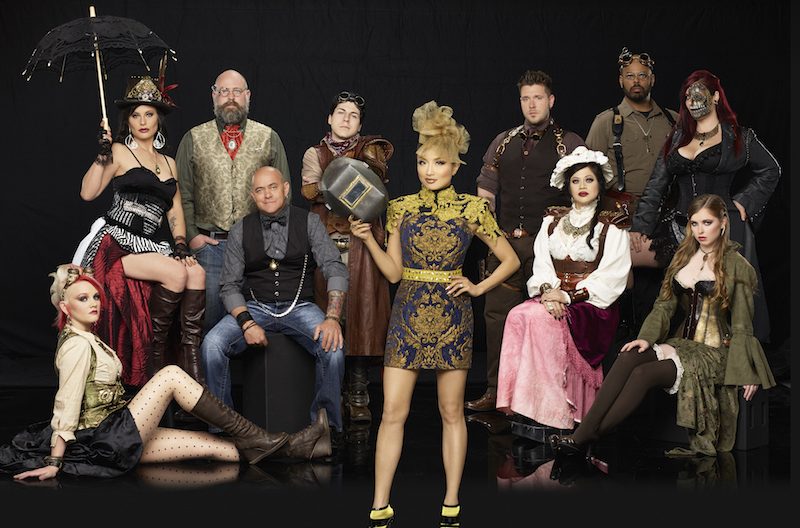 July 9, 2015
GSN Premieres Steampunk'd on Wednesday, August 19th
GSN debuts their latest out-of-studio game this August.

Following the success of GSN's body painting competition Skin Wars, the network is launching their second competition series, Steampunk'd. The eight-episode series, hosted by The Real's Jeannie Mai, debuts Wednesday, August 19th, at 10:00PM ET.
Inspired by 19th century industrial steam-powered machinery, Steampunk is a retro-futuristic design movement seen in everything from fashion, to technology, to pop culture. Each episode of Steampunk'd sees contestants, known as "Makers", work in teams to compete in challenges designed to test their unique abilities to transform ordinary objects and fashion into creative masterpieces. Only one will survive at the end of the series and leave with $100,000.
Judges include Thomas Willeford, Matt King, and Kate "Kato" Lambert. The Makers come from all over the country and are the best-of-the-best at Steampunk. They are:
Ave Rose (Culver City, CA)
Charles Mason (Hillsboro, OR)
Edward Thayer (Jackson, MI)
James Neatherly (Nashville, TN)
Josh "JW" Kinsey (Portland, OR)
Karianne Gottschalk (Detroit, MI)
Morgan Olsen (Los Angeles, CA)
Niki Phillips (Tallahassee, FL)
Tayliss Forge (Irvine, CA)
Tobias McCurry (Seattle, WA)
Steampunk'd is produced by Kimberly and John Ehrhand (Hogan Knows Best, Miami Social) and Jennifer J. Duncan.