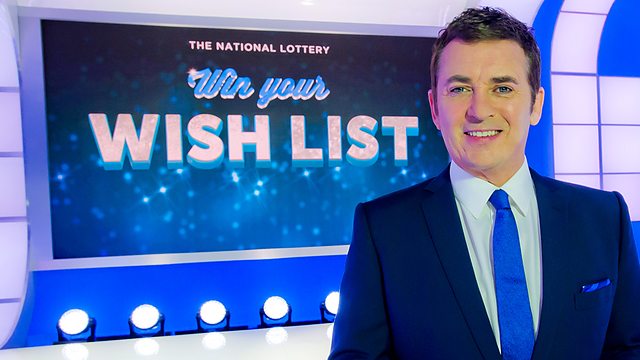 June 24, 2015
Watch: BBC's Win Your Wish List Returns for Second Series; Ionoco Provides Game Tech
Check out some of the fun and visually impressive BBC lottery game show.

Coming soon is the second series of BBC One's popular lottery game show Win Your Wish List. Victory Television-produced series, which has been commissioned for eight 60 minute episodes, sees couples select dream prizes to make up their personal wish list, all of which have a connection to their shared history. The contestants must face a barrage of questions in order to take their dream prizes home. The series is hosted by Shane Ritchie.
A few things set Win Your Wish List apart from other quiz shows. One is the question mechanic. Instead of the host asking, one of the contestants asking the questions to the other. That person is unable to help, they just have to read quickly, clearly, and make sure not to slip up. Any errors cost precious seconds.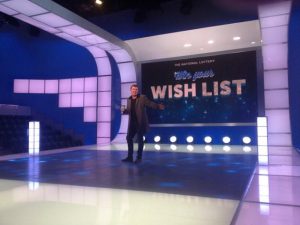 Another highlight is the impressive setup, including a large LED-screen floor. The tech for the series is provided by ionoco, who has done other games like Celebrity Name Game, The Chase, BOOM!, and others. If you've seen any of these, you know how impressive the production is. Win Your Wish List's tech includes moving LED floor graphic controls, main prize board screens, and more game-show control features including DMX lghting control, MIDI sound triggers, and the buzzer interface. Take a look at the video above to get a sample of the game and the tech behind the production.
ionoco Group chief executive Simon Ingram said, "Win Your Wish List may be a simple concept, but the technology needed to power it is anything but. Technically, the work was challenging because the need to synchronise the floor graphics with the game clock. Considering the LED product and the fact the pixels have gaps between them ionoco created an algorithm to meet the creative needs of the producer while ensuring the game remained fair and equitable for the contestants. This second commission from our friends at Victory, is a true vote of confidence in ionoco's ability to deliver technology that not only delivers the creative vision, but enhances it."