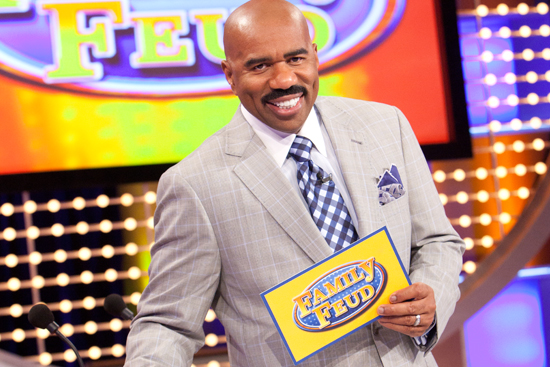 April 8, 2015
ABC Announces Summer Launches for 500 Questions, BattleBots, and Family Feud
Family Feud is coming back to ABC for a new celebrity run.

ABC has always been extremely great to unscripted television fans during the summer. We've had so many shows like Millionaire, Whodunnit?, Take The Money and Run, Wipeout, The Quest, and countless others. It's looking to be another great summer for game show fans with the launch of 500 Questions and the re-launch of BattleBots and Celebrity Family Feud.
ABC will debut the new quiz show 500 Questions on Wednesday, May 20th, at 8:00PM ET. The show tests the smartest people in the country to try a seemingly impossible task: answer 500 of the most difficult trivia questions devised. There's only one rule: never get three wrong in a row – or you're gone. There are no lifelines, no multiple choices, and no help. It's you versus the questions. CNN's Richard Quest hosts the show which will air over nine nights. The season finale is May 28th.
Starting June 21nd, Sundays will have two hours of unscripted. At 8:00PM ET is the network return of Celebrity Family Feud. Last seen in 2008 on primetime television (NBC), celebrity families compete against each other for charity. Steve Harvey, of course, returns as host. Family Feud aired on ABC originally from 1976 to 1985. Six episodes will air.
Following Family Feud is the revival of BattleBots at 9:00PM ET. Each episode sees competitors battle each other to the robotic death using remote-controlled machines they built. The series originally aired on Comedy Central from 2000 to 2002. The single-elimination tournament will run six episodes.
Lots going on this summer. All three look great. Looking forward to anything specifically?
500 Questions: May 20th at 8:00PM ET
Celebrity Family Feud: June 21st at 8:00PM ET
BattleBots: June 21st at 9:00PM ET