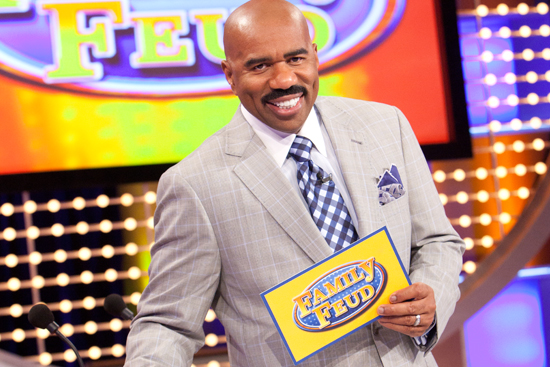 March 11, 2015
Harvey, Trebek, Sajak, and White Stay for More Games
The three biggest game shows on TV will be around through at least 2018.

Some big announcements came in for the country's biggest game shows. You'll be enjoying the Steve Harvey on Family Feud, Alex Trebek on Jeopardy!, and Pat Sajak and Vanna White on Wheel of Fortune for several more years. The news came from Sony and Fremantle this afternoon.
First, the people at Fremantle, behind Family Feud, confirmed to us that the show and Steve Harvey will be around for another five years.
@buzzerblog Buckle your seat belt for another 5 years of fun!

— Family Feud (@FamilyFeud) March 11, 2015
This will carry the show through 2020, ten years for Steve Harvey. This will make Steve the longest running consecutive host of Family Feud since its inception in 1976 (Richard Dawson hosted from 1976 to 1985). This also ties Steve with Richard Dawson as the longest running host the show has ever had (Dawson hosted one additional year in 1994). This also brings this current version of Feud to 20 years on the air which is the longest run the show has ever had by far, and brings the US franchise to 44 years on the air total. Congratulations to everyone involved. It's truly deserved.
Also coming in today, to end speculation, are renewals for Wheel of Fortune and Jeopardy!. Pat Sajak, Vanna White, and Alex Trebek have signed on with Sony Pictures TV to host their respective shows through 2017-2018.
"The enduring success of Wheel of Fortune and Jeopardy! serves as a testament to the talents of these remarkable hosts," said executive producer Harry Friedman. "The renewal of their contracts continues the special bond that Pat, Vanna and Alex have formed with generations of TV viewers."
This renewal brings Pat Sajak's run on Wheel to 37 years, Vanna White's Wheel gig to 36 years, and Alex Trebek's Jeopardy! run to 34 years. The syndicated version of Wheel, always hosted by Pat and Vanna, has been on the air since 1983, and this renewal brings the total franchise to 43 years the air. Jeopardy! has been on since 1984 in this version. With the renewal to 2018, the entire Jeopardy! franchise has been around for 54 years.