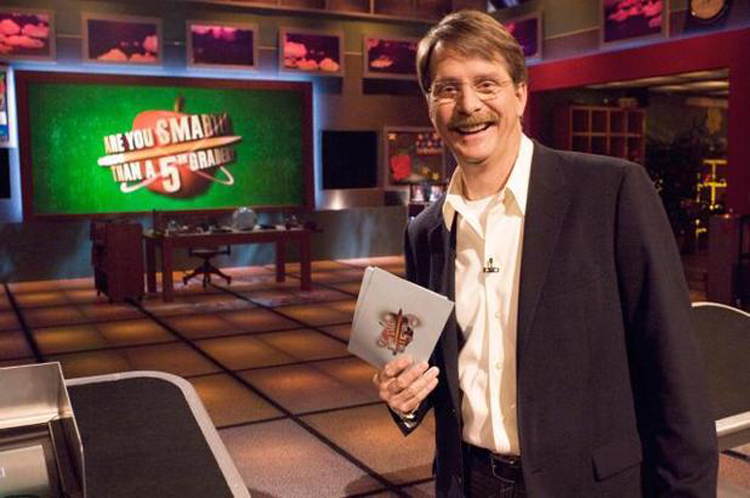 March 9, 2015
Fox Announces Summer Debuts of Boom and Fifth Grader
Fox has announced the debut dates for their two new summer quiz shows.

Quiz show fans will have their TVs tuned to Fox frequently this summer. Both the new series Boom and returning favorite Are You Smarter Than a Fifth Grader will join the network in the next few months.
Coming first is Are You Smarter Than a Fifth Grader. The new season will debut Tuesday, May 26, at 8:00PM ET. Jeff Foxworthy returns to host the Mark Burnett-produced quizzer. Each episode tests how much adults can remember from grade school by answering seemingly easy trivia questions. Grade schoolers will be by their side to assist them on the road to big money. New twists, turns, and set will introduce the format to a new generation of viewers.
Then, on Thursday, June 25th, at 8:00PM ET, Fox will debut the massively delayed quiz show Boom. Hosted by Tom Papa, the series sees teams of three answer a series of trivia questions by cutting wires correlating to wrong answers on a ticking slime "bomb". Cutting the correct answer wires earns the team money, while a wrong answer explodes the slime onto the players (and some of the audience) and knocks that player out of the game. If the team can survive six rounds they have the chance to go for the Mega Money Bomb Round, where one mistake loses the team half their bank. But, if they play well, they can leave with up to $500,000. Jeff Apploff and Bob Boden executive produce the shows.
Looking forward to either of them? I'm excited to see what they've done to Fifth Grader after the fantastic syndicated series some time ago. Also, Boom seems to have turned into a good quiz show which isn't a big surprise seeing that Bob Boden is behind it. Fingers crossed for both.