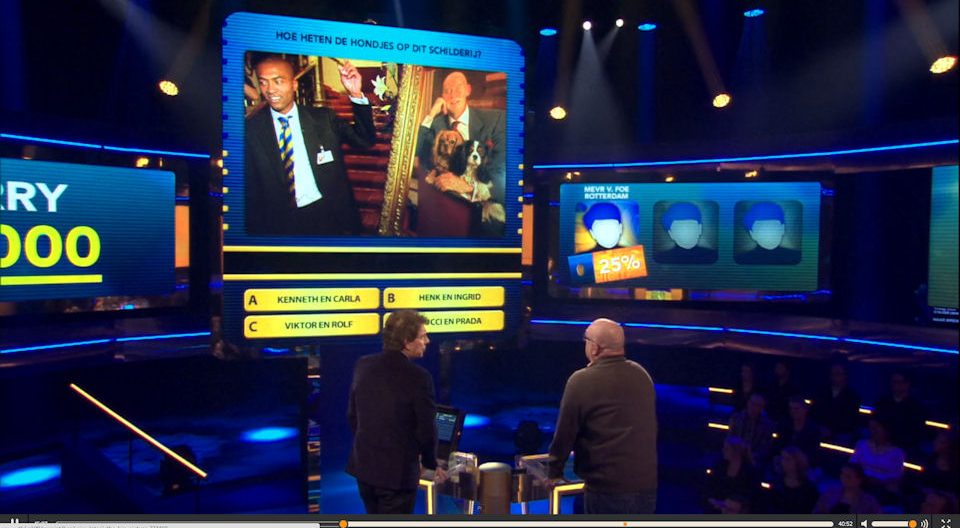 March 6, 2015
Talpa USA Shopping The Big Picture
The new quiz format combines Millionaire and home interactivity.

Talpa, run by producer John De Mol, is trying to break into America again with a new quiz format. This one is called The Big Picture, and it's being shopped for US markets now. The format sees a contestant trying to answer 12 questions appearing on a big screen in front of them, each with its own picture, for up to $1,000,000. You can read more here but it's almost identical to Who Wants to be a Millionaire with an added giant screen for pictures which Millionaire currently has so…it's the same.
The interactivity is where they try to set it apart. You can play along on the show's app. Home players can share in the winnings if the contestant uses one of three Lifeli…Escapes to switch out the question on the 12-step money tree to a million.
Take a look at the pitch film above. Pardon me for being slightly cynical about this because any new show is great and we love seeing quiz shows, but there are a few issues here. One is, while we understand that the Millionaire format is the one to copy because it works, you can do it slightly more creatively. 1 VS 100 is and was essentially multi-player Millionaire and it worked because it was different enough. Same with Fifth Grader. This is quite literally the same show. It's remarkable how identical it is.
The second is I get extremely skeptical whenever I see the interactivity of a show belted above everything else. It says to me that you care more about the people playing at home which is an unbelievably small percentage of the viewing audience, and the game is secondary. And I think we've seen enough from shows like Rising Star, Bingo Night, The Million Second Quiz, and countless others that it just isn't going to work and game shows are inherently interactive by nature. I wish everyone the best because getting new genre content is fantastic, but my first reaction when watching this was, "Seriously?"
If I'm wrong here, please feel free to correct me.
H/T Deadline