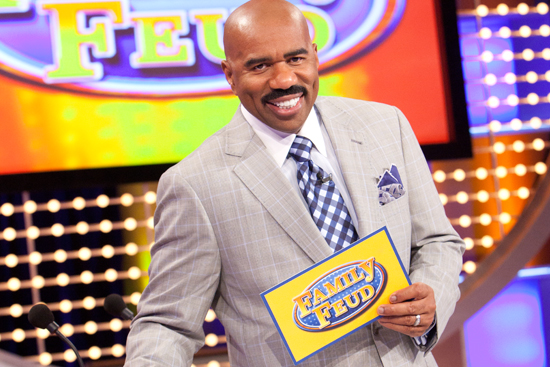 October 22, 2014
Ratings: Family Feud Continues Rise to the Top
Watch your backs, Wheel of Fortune and Jeopardy!.

In 2010 John O'Hurley was just wrapping up his run on Family Feud, with the show on the verge of cancellation and around a 1.5 rating. Did you think that we'd possibly see it become the most watched game show in the country? As of the ratings report for the week ending October 12th, it's only 0.6 points behind toppling Wheel of Fortune to become number one.
Feud is currently standing at a 5.8. That's a 35% increase year-to-date. That places it only 0.4 points behind Jeopardy! (6.2) and 0.6 behind Wheel of Fortune (6.4) in total viewers. In the important women 25-54 demographic, Family Feud is now the most watched show in the country. It beat Judge Judy, 3.0 to a 2.9.
Watch out for the next few weeks. Feud has bee getting a good amount of attention recently due to some viral moments and that tends to help the figures. It stands an actual shot at being the most watched game show in the country by the end of the year.
Who Wants to be a Millionaire is starting to look like it's coming to a close. The most recent figure is 1.9, down 5%. Couple that with the fact that the show's current renewal period ends this season and ABC has announced a new hour-long talk show with Tyra Banks, and it's just not looking good, sadly. Celebrity Name Game managed to get some good news, though. It's up 9% to a 1.2 and is tied with The Meredith Vieira Show for the second best rookie show of the year, only losing to court show Hot Bench by 0.3.