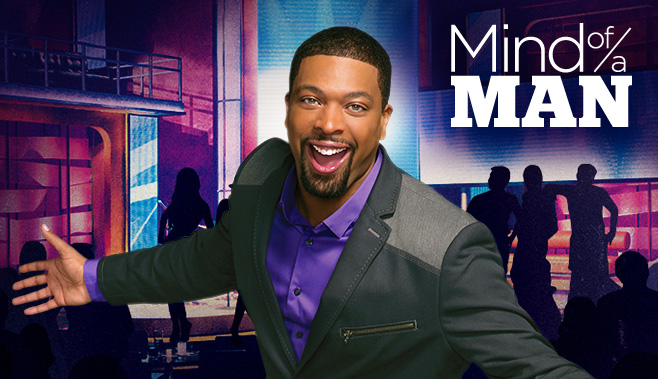 October 15, 2014
Fall 2015 Syndication Offerings Include Mind of a Man, What's My Line, and More
Networks are looking to games for the Fall 2015 season.

The Fall 2014 season just started but we're already looking ahead to the Fall 2015 season. TVNewsCheck named some upcoming developments in syndication, some known and some complete surprises, as viable syndicated sitcoms, a major winner for local stations, are few and far between today.
Sony Pictures Television is pitching the cancelled GSN game show Mind of a Man, hosted by original host DeRay Davis. The series ended after one season this year. Sony is pitching it as a companion to Family Feud, but as we've seen from Celebrity Name Game's so-so ratings, that doesn't necessarily mean a winner.
As we previously announced, Fremantle and Debmar-Mercury is developing a revival of the classic panel game What's My Line. A pilot was done recently. No news has come since then, though. Not syndicated but Fremantle is at MIPCOM this week pitching a primetime revival of To Tell The Truth as well.
At this time Monopoly Millionaire's Club, the new syndicated lottery game show, has been picked up in 95% of the country. The series will tie in with a new lottery ticket and each show lets one lucky player win up to $1,000,000 on the famous Monopoly board.
Not only is Celebrity Name Game's outlook not good, but Who Wants to be a Millionaire may be on the chopping block. The series is only renewed through this season and Terry Crews hasn't helped ratings. It's down in viewers 18-49 year-to-year and just flat in 25-54, so be on the lookout.
There may be more help coming, though. TVNewsCheck says CBS is considering a revival of Hollywood Squares, last seen ten years ago. NBC also has Hollywood Game Night, recently renewed for a third primetime season, in its arsenal for consideration.
Comedy games are the big thing now due to Family Feud's surge. The show is now the number one game show in demographics, and is less than a point away from being overall number one in viewers.