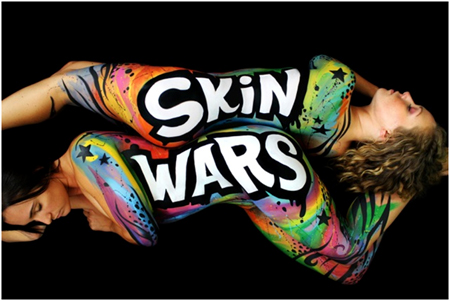 September 30, 2014
GSN Announces Second Season of Skin Wars
GSN renews its first successful competition series for an expanded second season.

One week after crowning its first champion, GSN has officially announced the second season of its hit reality game show Skin Wars this afternoon. The second season, currently casting, will be expanded to ten episodes, an addition of two from the first season. Rebecca Romin will remain as host. Judges RuPaul, Craig Tracy, and Robin Slonina will also return.
Skin Wars has been GSN's big success of the year, delivering the highest rated finale in GSN's history. The series's audience growth elevated 63% (women 18-49) and 42% (women 25-54). The first season saw more than 11.9 million total viewers and nearly doubled the time period average among total viewers year-to-date.
"We are thrilled that young audiences tuned in to witness the astonishing work of these contestants," said Amy Introcaso-Davis, executive vice president, programming, GSN. "'Skin Wars' represents GSN's commitment to celebrate artistry through skill-based competition and we cannot wait for viewers to see what we have in store for them with season two."