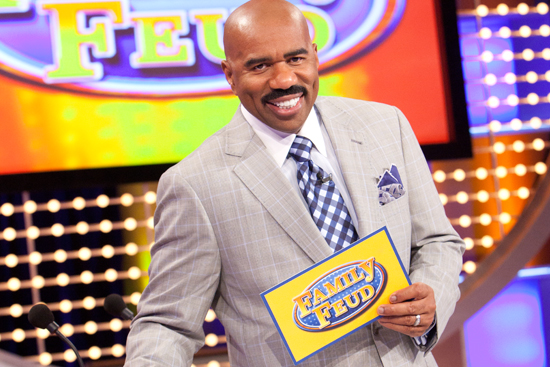 September 15, 2014
Tune In: Family Feud, Wheel of Fortune, and Jeopardy Begin New Seasons Today
The country's three biggest game shows begin their new seasons today.

Game show fans will be glued to their televisions this evening. Family Feud, Jeopardy!, and Wheel of Fortune all start their new seasons today.
Family Feud had a breakthrough season last year, reaching new ratings highs and scoring host Steve Harvey an Emmy award. This season hopes to continue that momentum with an all new big board (the board has not changed since 2006) and the same laughs and fun we've enjoyed the past few years. Here's a preview of the new season.
[youtube http://www.youtube.com/watch?v=sX3DB5cQufE?list=UUt8jfvd9skBAOT6XJwc_mJg]
Jeopardy! enters its 31st season today. As we previously discussed, this season will include the Teachers Tournament, College Championship, Teen Tournament, and Kids Week. The annual Tournament of Champions begins November 10th. However, most importantly, Alex Trebek looks to be going with the mustache again (at least for a bit). Check it out below.
[youtube http://www.youtube.com/watch?v=2t4W8bctoZQ&w=640&h=360]
Finally Wheel of Fortune starts its 32nd year today with Teacher's Week. Changes include raising the minimum value on the wheel to $500, the minimum on the bonus wheel to $32,000 to correspond with the season, and some bonus cash tied to different categories. And this nauseatingly saccharine preview for this week shows some pretty exciting things going on.  Check it out.
[youtube http://www.youtube.com/watch?v=EWGCSp4feCo]
If you watched, what did you think of the new seasons?