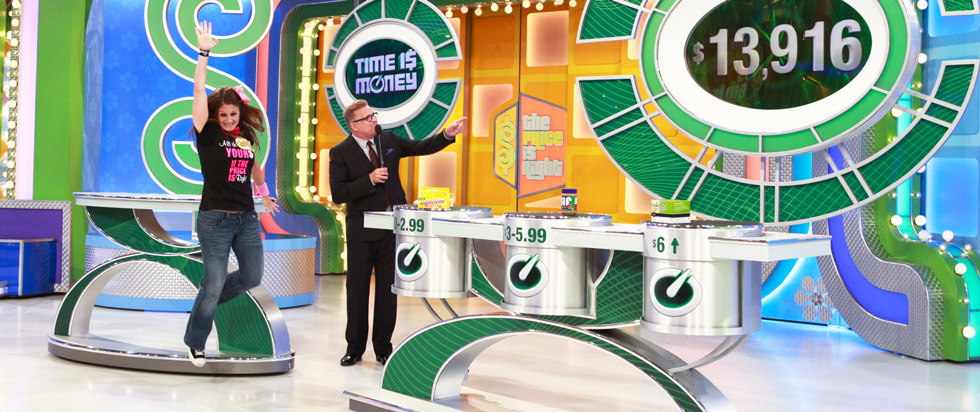 September 12, 2014
The Price is Right and Let's Make A Deal Return September 22nd
The Price is Right returns for its 43rd season and brings along the classic pricing game Time is Money.

Both The Price is Right and Let's Make A Deal will debut their new seasons on September 22nd; their 43rd and sixth seasons, respectively.
The Price is Right is definitely one to watch out for. We briefly discussed the set update, which includes a brand new set of doors. There's a definite throwback to the Bob Barker version, as you'll see. The show will also bring back the game "Time is Money" under a revamped format.
Contestants can win up to $20,000 in "Time is Money." They are given ten seconds to place five grocery items into three categories ($0 – $2.99, $3.00 – $5.99, $6.00 +). If they get it right they get the money. If they can't, though, the money clock will tick down under they get the correct combination. If you saw the original version of the game (see below), last played in 2003, you'll see what a giant improvement it is. Click here to check out the new version in action.
[youtube http://www.youtube.com/watch?v=gHCD1UAP5_8]
Beyond the new game and set, the popular "Dream Car Week" will return along with "Big Money Week" where one lucky contestant can play for $1,000,000. The winner of the second Male Model Search will be announced December 8th and begin a one-week run December 15th.
The Emmy Award-winner Let's Make A Deal also returns September 22nd. This sixth season will feature special weeks like the "All Singing Musical Episode," "The Clash of the Colleges Special," a "Grammy Award Tribute Show," and an unpredictable April Fool's Day show. The new season will also mark the Wayne Brady-hosted show's jump to HD along with some new games coming.
Looking forward to the new seasons?