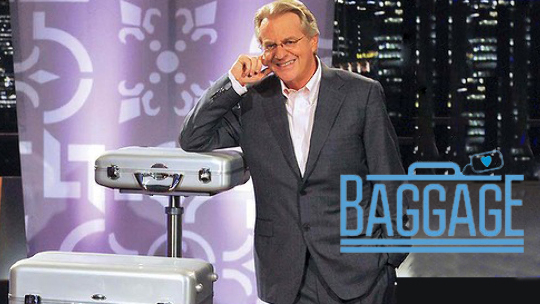 September 8, 2014
GSN Casts for Baggage Revival
GSN's popular dating game show is coming back.

Update: GSN is tweeting the upcoming casting calls.  I think we can make it pretty much official that it's happening.
Casting: Single men & women in #Austin TX for @GSN hit dating-game show #Baggage See #casting details pic.twitter.com/gh9xFcsoNd @MajorMediaLLC

— Baggage (@GSN_Baggage) September 8, 2014
Previously:
One of GSN's most popular shows ever, and one of the few to break through to a national audience, Baggage, is eyeing a comeback. National casting notices are going out for the series. You can click here to read a recent one.
GSN has not made an announcement on this just yet but we'll reach out for a statement as soon as we can. A revival of Baggage would add to GSN's currently-strong arsenal of original programming which now includes The Chase, Idiotest, Skin Wars, It Takes a Church, The American Bible Challenge, and the upcoming The Line.
Baggage is a comedic dating game show which sees one single contestant pick from three potential partners. Each has three pieces of baggage, or pieces of potentially embarrassing information and dirty laundry, with the more bigger and badder in larger and larger suitcases. Eventually only one person will remain and the two will win a date…as long as that person can accept the contestant's baggage in a final role-reversal round.
Baggage aired from April 2010 to December 2011. The series, hosted by Jerry Springer, was an instant winner for GSN, achieving high ratings, youthful viewers, and being the first show in the network's history to reach national syndication in 2012. It was unceremoniously canceled in 2011 despite high ratings though it has been airing in perpetual reruns to nice levels of success.
As the network tries to bolster their lineup, diversify it, and get shows which bring in younger viewers, it makes perfect sense to bring Baggage back. It was entertaining, funny, and just fun to watch. Baggage was fake and scripted as hell, but it didn't matter. You got a laugh out it. Excited to see it eyeing a return and can't wait to hear more.