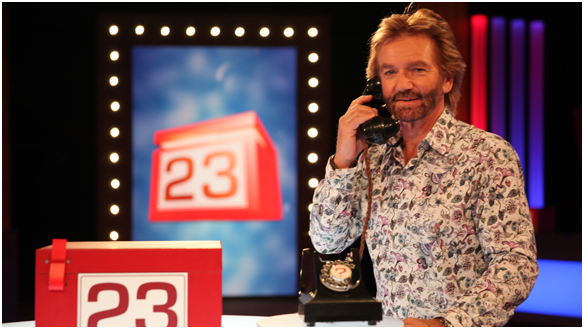 September 8, 2014
Channel 4 Renews Deal or No Deal Through 2015
288 new episodes, ten years, and one big new twist for the Dream Factory in 2015.

Channel 4 has renewed its popular daytime game show Deal or No Deal for a further 288 episodes. This will bring the Noel Edmonds-hosted game through 2015 and almost 3,000 episodes.
Deal or No Deal has one more big twist up its sleeve starting September 28th. The show will be adding an "Offer Button". If the contestant for the day can successfully guess his or her first offer, that person will gain the one-time use of the "Offer Button". If the contestant presses it, the Banker must immediately call for an offer. It gives the contestant more control of their game then ever before.
2014 start the beginning of a transformative period for the show as the Dream Factory moved locations, updated its look, and added a "Box 23" twist which could see contestants leaving with £500,000.
Host Noel Edmonds says, "I feel honoured to be part of the finest team in TV. A team that never rests on its laurels and strives tirelessly to make the most entertaining shows possible. I am also truly grateful for the chance to meet so many fascinating people, from every walk of life, and to hopefully be instrumental in making their dreams come true."
It's pretty amazing that a simple show about picking random boxes can stay on the air this long and remain entertaining. It's a testament to everything they do right and the amazing production team behind the series. Congratulations to them and I can't wait to see what they have in store for next year.