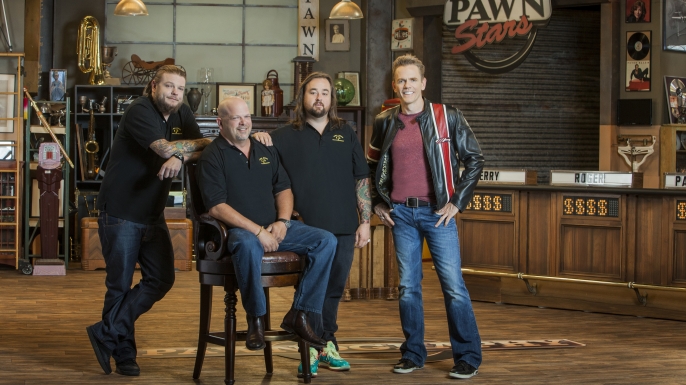 July 10, 2014
History's Pawnography Debuts Tonight at 10:00PM
I think we've run out of puns between the words "porn" and "pawn". But we have a new quiz show from this one.

History is doing something pretty shocking and actually debuting a new quiz show tonight called Pawnography. The series, hosted by actor and comedian Christopher Titus, starts tonight at 10:00PM ET. The last History game show of any note was History IQ from 2000.
Each episode sees Rick, Corey and Chumlee from the network's hit reality show Pawn Stars battle three contestants in a trivia game. The contestants are playing for cash and items from Rick's personal collection at the World Famous Gold & Silver Pawnshop.
If it looks and sounds fairly similar to Win Ben Stein's Money, then we're on the same page. The set even looks familiar. This isn't a bad thing at all, by the way. That was one of the most enjoyable and fun quizzes of the 90s so I'd love to see them capture that energy here. Plus, given their appearance on Millionaire, it'll be entertaining to see this group at minimum.
Click here to check out a sneak peek below. What do you think?  Looking forward to it?