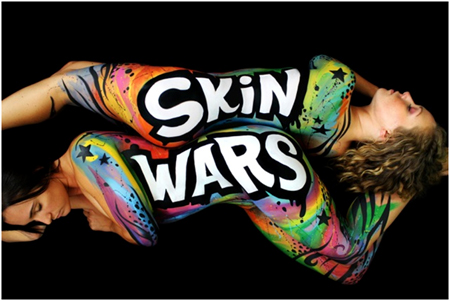 July 9, 2014
GSN Announces Competitors for Series Debut of Skin Wars
GSN has announced its first batch of contestants for the new body painting game show debuting August 6th.

If you watched The Chase last night on GSN then you have seen spots for the network's newest entry into a long term competition/game show called Skin Wars. The series sees the country's most talented body painters compete for a $100,000 cash prize, a one-year supply of paint and will be the featured guest artist at IMATS, the premiere body painting trade show in New York City.
The series debuts Wednesday, August 6th, at 9:00PM ET. Rebecca Romijn hosts. The panel of judges includes the legendary performer RuPaul and body painting icons Craig Tracy and Robin Slonina. GSN has announced the first set of contestants ready to compete. They include:
Alan Anderson is an award winning artist from Denver who also makes a living as a firefighter and paramedic.  At an early age he started creating creatures and characters on himself for Halloween parties and contests.
Angela Roberts is the youngest of the group at 21 years old.  This former college track star from Lafayette, Louisiana has used her talent and art to overcome some of the learning disabilities she's faced since an early age.
Dutch Bihary teaches workshops around the country with his wife, in addition to owning and operating a face and body painting workshop in Seattle, WA.  He started out illustrating comic books and his love of the art has evolved into a wide variety of projects, from murals, tattoo flash, and album covers to special effects makeup on film and music videos.
Felle is a master of the air brush gun and has painted murals and more for hip hop royalty, including Jay Z, Lil Wayne, Beyonce, and Kanye West. Owner of a custom auto painting shop in Detroit, MI, he is also a member of Economic Growth for Detroit.
Gear Boxxx is a street graffiti artist turned body painting instructor from Las Vegas. Known in the business for his talented air brushing skills, Gear loves all things anime and Bruce Lee.
Mythica Von Griffyn, is a certified hypnotherapist, a Reiki Master, and a reverend from Denver. She also spends her time teaching spiritual body painting for healing.
Natalie Fletcher, from Bend, OR, is trained in classic realism and technical painting, and specializes in hand painted camouflage landscapes
Nicole Hays, from Riverview, FL is the black sheep of her family of dentists and doctors. She fell in love with art and decided to become an artist while on spring break in Florida and never left. Nicole also competes on a roller derby team and performs circus acts.
Sean Avram, from Hinesburg, VT, was once a professional wrestler, commentator and ring announcer and is now a father of five. He is known for body painting fantasy and science fiction characters, usually on his wife, who serves as both a model and his muse.
Shannon Holt, from Orlando, FL, got her start painting guests at high end nudist resorts.  Now she travels the world, body painting at art galleries and private parties. Shannon is an animal lover and animal rescue is a big part of her life.
I have to admit, despite what I initially thought, the commercials to make the show seem fun. The artwork was amazing, it is something different, and it is actually a game show so let's put that debate to rest. It's not the documentary type reality shows that has failed time and time again. It is an actual game and an actual competition and it looks well done, so let's see how it goes.