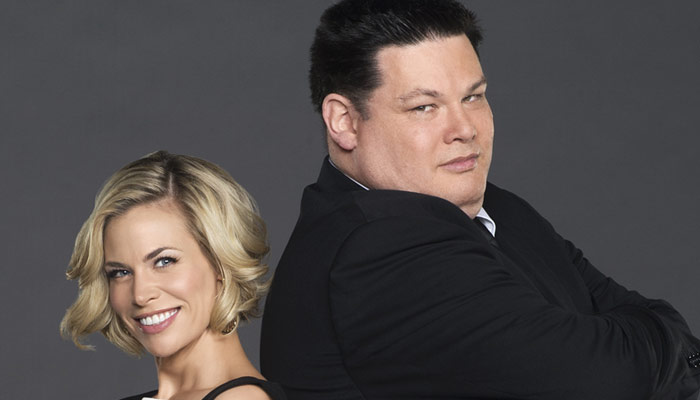 July 8, 2014
The Chase Season Three Debuts Tonight on GSN
It's time to unleash The Beast

The third season of GSN's smash hit quiz show The Chase debuts tonight at 8:00PM ET. For those that may be late to the game, each episode of the Brooke Burns-hosted quiz sees a team of three try to outrun Mark "The Beast" Labbett and bring tens of thousands of dollars (if not six figures) back to the shared bank.
Anyone who gets caught is out of the game and the money is lost. Make it back safely and that person plays the "Final Chase" at the end of the show for an equal share of the prize fund. If they can outrun The Beast one final time they win it all. However, get caught, and the team leaves with nothing.
The Chase started out relatively popular but with modest ratings. However, by the end of season two, it grew to GSN's highest rated show with over 800,000 viewers per episode. It was also nominated for the Daytime Emmy for Outstanding Game Show.
We've been following the British version, still airing daily on ITV, since its inception and have always raved about it. I never thought we'd see a show like The Chase be successful in America, let alone air, so it's hard to be more thrilled. I'm personally very proud (and still thank everyone at GSN for giving me the opportunity) to have lead a panel on The Chase at last year's TCONA in Las Vegas. Hoping the best for everyone and we hope to see more episodes for the foreseeable future.
Be sure to catch the season premiere today at 8:00PM ET on GSN. We'll be on Twitter chatting with everyone else on hashtag #TheChaseUSA. Be sure to join us.
[youtube http://www.youtube.com/watch?v=Hb6v1KAaimw]