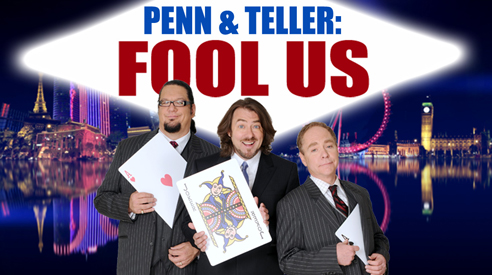 July 8, 2014
Penn & Teller: Fool Us Debuts July 30th on The CW
Could you outsmart Penn & Teller to try to win a performance in Las Vegas?

Fool Us will find out who has what it takes to stand toe-to-toe with two of the world's biggest magicians. Each episode of Penn & Teller: Fool Us sees amateur magicians perform in front of the double act, and a live audience. The series debuts Wednesday, July 30th, at 8:00PM ET on The CW. Popular British television and radio personality Jonathan Ross hosts.
The aim is to stump Penn & Teller and perform a trick they can't work out instantly. Penn & Teller will only see the trick once. If they can figure out how the trick was done then the performer leaves. However, if they can fool the duo, they win the right to perform at the Rio Hotel & Casino in Las Vegas.
The series originally aired on the British network ITV in 2011. Take a look at some of the show above (but not too much, you don't want to spoil it all before it airs). Does this seem like something you'll watch? I saw most of the UK version and it's pretty fun and Penn & Teller are, as always, incredibly entertaining. Fun way to kill an hour.
Watch Penn & Teller: Fool Us starting Wednesday, July 30th, at 8:00PM ET on The CW.