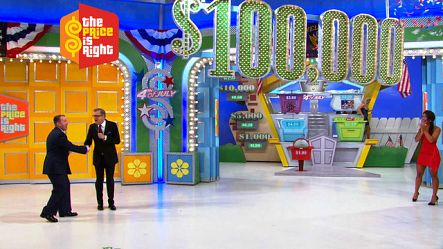 July 7, 2014
The Price is Right Crowns Second Pay the Rent Winner
For the second time, the confetti fell on The Price is Right's biggest cash game.

If you missed the special Fourth of July edition of the popular CBS daytime game, you missed one hell of an hour. Price's regular Salute to the Military edition saw a perfect 6-out-of-6 day with winnings totaling over $225,000. What makes the perfect day more noteworthy is that the show's toughest but biggest game was beaten for just the second time.
Air Force Pilot Kevin Van Stone from Palmdale, CA, took home one of the show's biggest paydays, $100,000 in cash, on the game Pay the Rent. Kevin had to stack four rows of grocery items, making sure each row above is worth more than the row below. It's a lot tougher than it seems but it's incredibly fun to watch and very exciting when something like this happens.
If you missed the full episode click here to check it out. It's worth it. Otherwise be sure to re-watch the big win above.