Auld Lang Gone: The Lost Carmen Sandiego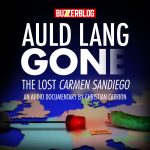 For years, a legend persisted online about an unaired, never-seen episode of the popular 90s kids game show Where in the World is Carmen Sandiego. This episode, Auld Lang Gone, was purported to be plagued with technical snafus, casting follies and bone-breaking calamity. BuzzerBlog's Christian Carrion went on the chase to determine what exactly happened on that fateful episode—if it even existed.
In celebration of Where in the World is Carmen Sandiego's 30th anniversary, BuzzerBlog is proud to present our first audio documentary: a fantastic retelling of Christian Carrion's 3-part investigation into the rumored lost episode of the show, entitled Auld Lang Gone. Listen as Christian weaves his way through history to determine if this fabled lore is based in reality.
Auld Lang Gone: The Lost Carmen Sandiego
An audio documentary written, produced, edited, and narrated by Christian Carrion @strangerthanC
Featuring the voices of:
Original Carmen Sandiego host Greg Lee
Sean Altman of Rockapella
Double Dare host Marc Summers
Game show producer Bob Boden
Carmen Sandiego creator/producer Howard Blumenthal
Tom Bastek
Mike Jacobs
Joe Trela
Cory Anotado
Michael Tiller
Andrew Long
Amanda Glenn-Bradley
Aaron Sanders
Alex Kaufman
Graham Parker
Michael Doyle
James Dinan
James Key
Dave Walls
Jason LaBonte
Josh Roehrig
John Lumapas
Earl Holland
Greg Gouillart
Aleeya Ensign
Ash Colwell
Blaine Case
Jacob Sachleben

Announcer: Greg Scott
Thanks to composers Sean Altman & David Yazbek for the use of their song and recording of the "Where In The World Is Carmen Sandiego?" Theme Song.
Original music by
The Fidelitys "Where In The World"
Medline
Ryan Bradley
A special presentation of
@buzzerblog
Buzzerblog.com
Patreon.com/strangerthanchristian
©️2021 Buzzerblog and Christian Carrion