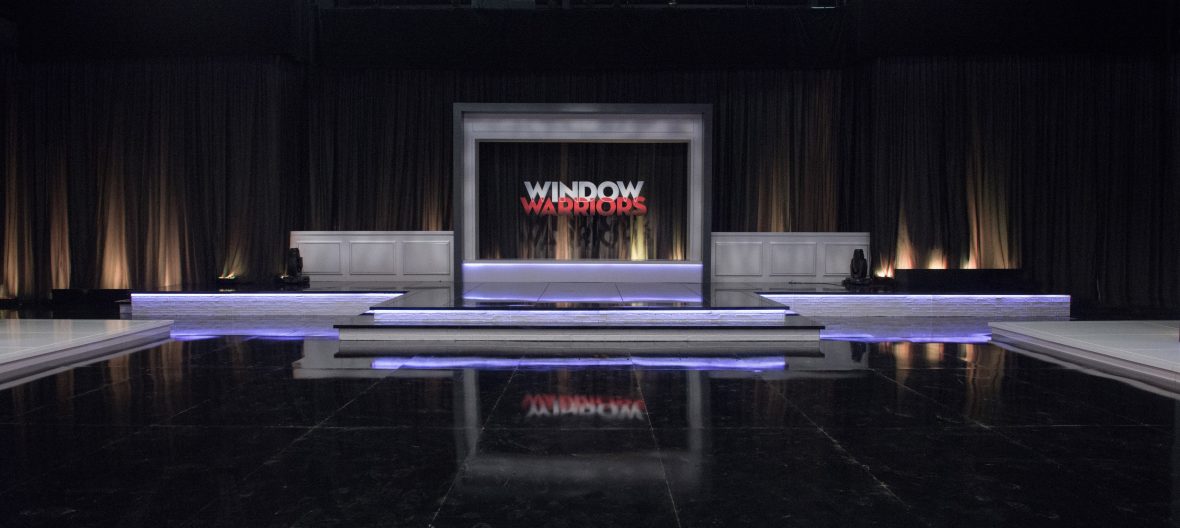 November 14, 2016
Review: Window Warriors
Why am I watching this and why do I want to keep watching this?
GSN seems to bank pretty big these days on reality competition trade shows. Take some kind of creative trade, find the people with the biggest or brashest personalities, and make them do what they do, picking off one at a time. GSN's big success has been with body-painting competition Skin Wars, but antique-future crafting show Steampunk'd failed to turn anyone's gears. So, finding another untapped creative trade—the age-old art of window dressing—does GSN have another successful hit on their hands?
Ehhhhhh probably no.
But for someone like me, who doesn't really notice window displays but can totally get suckered into watching people who are really good at doing something (or who thinks they're really good at doing something), Window Warriors is an interesting and engaging hour of television.
Every week, the designers (there's 8 to start) are given a brief for a window display for a national company—week 1's company is Macy's, for instance, and companies like Lush, Hot Topic and Anthropologie are on board for the season—and have to complete the task to the satisfaction of the judges and the company. The judges are recognizable if you watch fashion-oriented television: Queer Eye's Carson Kressley, media personality Tai Beauchamp and visual merchandiser Douglas Little. (OK, if you're like me, you probably just recognize Carson.) The host is actress and personality Garcelle Beauvais (whom my fashion-forward co-worker recognized at first glance).
The best window gets a pass to the next round, and theoretically, the worst gets curtains.
Let's get this out of the way right now: If you're watching GSN for more shiny-floor games, you're probably not going to like Window Warriors. It has the exact same trappings as a show like Cupcake Wars, Top Chef, Project Runway, or Skin Wars: people do creative things, shit may fall apart in the middle or near the end, everyone gets judged, someone goes home, lather, rinse, repeat. There's nothing innovative in the formula that would be enough to pull people in looking for unique formats.
What is engaging, however, is the creativity and the ingenuity of most of the contestants on this show. Window-dressing is a very targeted form of commercial design: using the art of spacial design as lead generation for a store through impulse. To watch the creative process work in the specific confines of a small space, 2 days worth of time, and a client that needs to be happy, is interesting to someone like me, who also will binge watch Chopped for hours on end. The actual displays that the contestants craft are engaging and creative, and it's impressive to watch a window come together, enough that I'm planning on DVRing the season just to see more windows because it's fascinating.
This show is another GSN creation that's trying to target a more affluent, younger demographic. (Reality needs to set in to fans of the genre: traditional game shows skew HELLA old.) If this were a standard, general entertainment blog, I'd probably rate this show a lot higher, because it's actually—and surprisingly—engaging. The level of creativity is a lot higher than a show like Chopped or Project Runway because of the 3-dimensional nature of window dressing—you're working with fashion, set design, lighting, space, texture and the like. If there was a more interesting twist to the competition format rather than "shittest person goes home" then I'd be more in favor of stepping outside of your preferred television viewing comfort zone to watch this, but there's not really.
If you like watching creative people create under pressure, you're probably going to really enjoy watching Window Warriors. If you're looking for more traditional game shows, this isn't going to be your cup of tea.