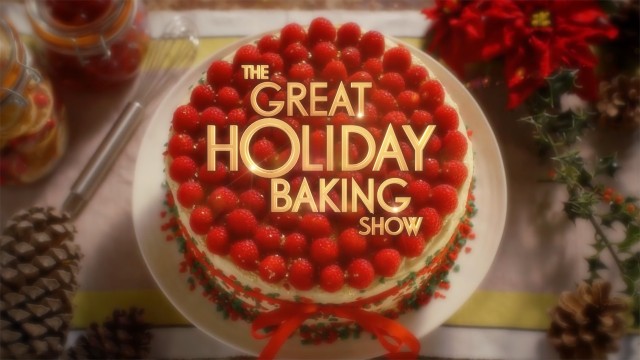 ABC does its best to capture the quaint magic of this BBC import.
November 30, 2015
Review: The Great Holiday Baking Show
My bottom is so soggy in delight right now.
It's no secret that I love the Great British Bake-Off. Like, more than any one person really should, especially when said person can't bake more than the Pillsbury tube of sugar cookies. When new episodes air on BBC One, this is my general reaction.
There are so many different cues that the Great British Bake Off hits during its seasons that it's developed a very unique fingerprint on reality competition television. For one thing, it's so quaint it hurts. The tent in which the bakers compete is in a delightful British garden. Every part of the tent is decorated to feel comfortable, light, and airy, even if the situations the bakers are in isn't. Speaking of the contestants, the casting department for GBBO deserves some kind of Nobel Prize for consistently finding contestants who are both good at baking and are seemingly genuinely nice and just happy to be challenged in the art of baking. No one's ever (intentionally) nasty to anyone else, there's never (as far as we can tell, Bingate withstanding) any malice or meanness to any other fellow bakers, and no earnest spite or animosity between any of the contestants. The enemy isn't the opposing bakers. It's the bakes.
Which is why CBS's attempt to bring the show to America was so disappointing. The American Baking Competition (because apparently Pillsbury owns the phrase "Bake-Off" to describe a baking competition) starred Jeff Foxworthy as host, imported Paul Hollywood from GBBO, and amped up the competition to eleven. And it left a sour taste in my mouth because what it seemed like the producers of the show focused so hard on was the "American" part of the title.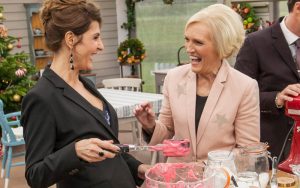 So, it is with an immense amount of pleasure that I can tell you that the Great Holiday Baking Show, a truncated, four-episode mini-Bake Off premiering tonight on ABC at 10 PM after so many Peanuts specials, is a worthy import for fans of GBBO, or food in general. The things that make the Great British Bake-Off so great are here in troves: challenging competition, genuine feedback, bakers who are good at baking, and a distinct lack of manufactured, interpersonal drama.
For those who aren't familiar, the Great Holiday Baking Show is a baking competition. 6 amateur bakers compete weekly in three themed challenges. For the first week, the bakers had three Christmas Cookie challenges. The first challenge is the Signature bake, where bakers are given a task and must make something that showcases their skills. It's a good opportunity to show off what they're really good at. The second challenge is a Technical challenge, where each baker is given the same ingredients and a vague recipe and must try to use their technical skills in order to meet the judges' rigid standards. The final challenge is the Showstopper challenge, a larger-than-life task that pushes the limits of what the bakers can do with the medium. For tonight's premiere, the Showstopper was to build elaborate gingerbread structures.
The show is filmed in the signature Bake-Off tent, and the show is judged by Mary Berry. The music cues, although jingle-fied for the holidays, remain recognizable as pure Bake-Off. Love Productions, who craft GBBO, are in charge of production and direction here as well. Even the "best-case-scenario-bake" drawings are still present. All the beats are there for fans of the Bake-Off to feel right at home. With that, however, means that for fans of the show, there's nothing new being brought to the proceedings. Not that their needs to be.
The changes made to accommodate American audiences are few. Replacing comedy duo Mel Giedroyc and Sue Perkins as hosts are My Big Fat Greek Wedding star Nia Vardalos and her husband, Cougar Town star Ian Gomez. (If you see his face, you'll know who he is. He was on the Drew Carey Show too.) Replacing Paul Hollywood (probably because his wife wouldn't want ANYTHING to do with Great American Baking anything at this point, but that's snarky stipulation and not based in reality) is celebrity Pastry Chef and Beard Award Winner Johnny Iuzzini. Johnny brings his own personality to the judging proceedings, but still banters quite well against Mary Berry's adorable expert-baking grandma persona. Nia and Ian (they're anagrams of each other!) also are a great duo. Ian's more of the straight man in the comedy duo, being very matter-of-factly in the proceedings, while Nia has not only the cadence and the tone of GBBO hosts, but also the hilarious habit of picking off and eating batter, sweets and other ingredients off the table. And just like Mel and Sue, Ian and Nia not only update the contestants, but provide moral support and encouragement during more stressful points of the show.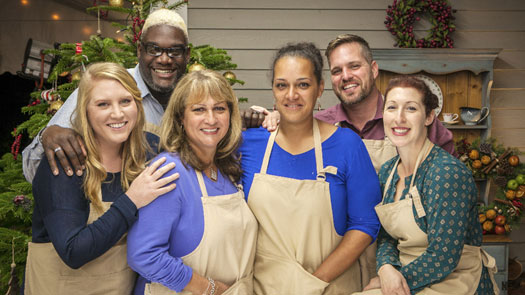 I fully expected the American contestants to be loud, annoying, in-your-face bald-eagle wave-the-flag AMERICA types, but casting has once again found a class of bakers who have a genuine personality and actual baking skill. The cross-section of America is present, but there's here to make us some Christmas cookies, and not to pick a fight and promote their new single. It's conscious casting choices like this that makes the GBBO so strong and so popular. Having nice people who are good at what they're competing in is surprising in reality competitions, which is sad.
Whatever problems I find with the presentation are minimal, really. The proceedings seem a bit rushed to fit America's ever-increasing amount of commercials, so the baking segments feel a little rushed. And the forced reference to a "soggy bottom" during the premiere episode was a little cringeworthy to me, as a fan of the show. And only four episodes? Wahhhh. Is this ABC dipping a toe in the water for a full Great American Bake-Off series? Only time will tell. But for fans of food competitions, Christmas sweets, or the Great British Bake-Off, this is a wonderful way to spend an hour.