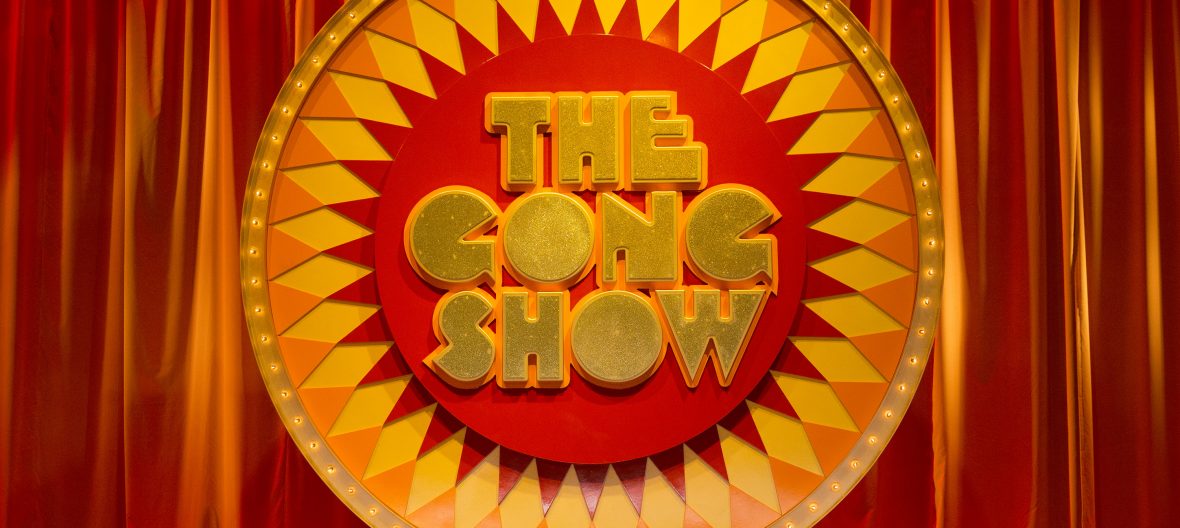 June 22, 2017
Review: The Gong Show
There's two kinds of shows that make you go "what the hell?"
One kind of "what the hell" show is a show that is so confusing, so incredibly obtuse, that no one knows what's going on. You know, like the Million Second Quiz or 500 Questions. The other kind of "what the hell" show is a show so bizarre, so utterly amazing, that your emotions fluctuate from bewilderment to joy and back again, in an exciting wave of entertainment that leaves you satiated with each commercial break.
That's what ABC's The Gong Show is: an hour of going "what the hell am I watching" and laughing the whole time.
Produced by funnyman and Batman voice Will Arnett, and hosted by Definitely-Not-Mike-Myers-In-A-Costume Tommy Maitland, ABC's Gong Show revival attempts to recreate the magical oddness that the original 70s version was best known for. And although a bit more polished than Chuck Barris' version, the Gong Show delivers on what it's promising: an hour of acts too weird for America's Got Talent.
On a base level, the Gong Show ticks all the boxes that one would expect from a revival of the 70s classic. There's a kitschy 70s-styled set (although modernized for 2017, including a video screen in the background), a live band (who does a great job playing) and three celebrities judging acts, writing scores from a ten-point scale on poster board. The titular gong is situated about 10 feet behind the judges, meaning a terrible act requires a sprint to the gong. A particularly terrible act will probably find the judges throwing whatever they can get their hands on at the gong to stop the misery as fast as possible. Winning acts get a check for $2000.17 and a wee tiny gong trophy.
Host Tommy Maitland, who has a long illustrious international career as a comedian and actor, does just fine with the proceedings here. Sometimes his scripted jokes fall a little flat, but maybe that's just me not used to his British sensibilities. He moves the show along swiftly, and interacts with both the acts and the celebrity panel with a genuine sense of sarcasm; I would be utterly surprised if the host of this show was just a celebrity who voiced Shrek in a weird mask, because it's definitely not Mike Myers.
(On the real, though, having Mike Myers in a weird mask host this show just adds to the surrealism of the whole proceedings in a really fun way.)
But it's not Mike Myers hosting, it's Tommy Maitland. Obviously.
The acts are exactly what you'd expect from The Gong Show. It really feels like they took whoever appeared that had any kind of rehearsed act and put them on television. From a unicycling sasquatch to a woman who plays a harmonica with a tarantula in her mouth, these are the acts that NBC looked at for AGT and said "are you kidding me, get out" without a second glance.
Which really is what makes the Gong Show so great. Chuck Barris treated the show with an equal level of respect and disdain, never taking the proceedings too seriously or too jovially, and that's what's happening here. That sensibility reflects in every aspect of the show, and I think anyone who was a big fan of the original Gong Show will be very pleased with this revival.