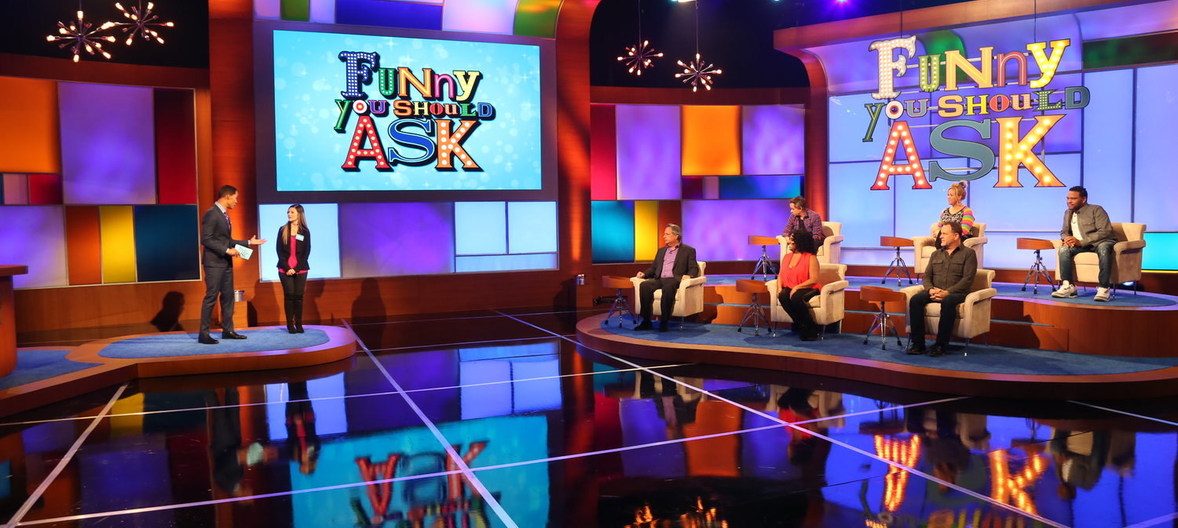 It's not a strong game, but the jokes are chuckle worthy and come at a spitfire rate.
October 3, 2017
Review: Funny You Should Ask
Funny You Should Ask is the first shiny-floor game show from the Byron Allen-led media empire of Entertainment Studios. Before this show, all I recognized Entertainment Studios was from the solid block of court shows that permeates my local MyNetworkTV channel in the daytime. According to Wikipedia, ES is "the largest independently operated syndication producer/distributor for broadcast television as the company produces and distributes 29 syndicated television series, which largely consist of court shows scripted from actual testimony, and interview programs" which is impressive and also kind of weird, but I'm not an expert in scripted court shows or what sells in syndication.

Funny You Should Ask is, at its core, Hollywood Squares with three fewer celebrities and without that pesky "tic tac toe" mechanic. Two players compete for cash as host Jon Kelley asks each celebrity trivia questions. Each answer is preceded by a joke, and the players must agree or disagree with the celebrities' answer. Players alternate, with three questions going to each contestant per round. Rounds 1 and 2 are 6 questions long at $100 and $200 per correct answer, respectively; Round 3 is $300 per correct answer and is played until time runs out. Highest score keeps the cash and moves on to the bonus round. In the bonus round, the player is asked three questions, one at a time. The first question has three possible answers, the second has four answers and the last has five. (The last answer given is always a joke answer). A player that gets all three questions right gets an additional $5,000 in prize money.
Comparing the show to its closest modern equivalent, VH1's Hip Hop Squares, Funny You Should Ask holds up remarkably well. The prize budgets are just about the same. FYSA feels like a faster game, with more questions being doled out than Hip Hop Squares' snails-pace of questions. Both games are pretty shallow in the actual game department, but FYSA keeps delivering on the main gameplay with every question, so nothing feels sluggish. The celebrities that FYSA are surprisingly well-known, especially to comedy and game show fans. In the episode I watched, the panel was made up of Tom Arnold, Caroline Rhea, Bill Bellamy, Emmy Award-winning actor Louie Anderson, Sheryl Underwood and Jon Lovitz. (Of note, Louie's currently on TV as Christine on FX's Baskets, and Sheryl is one of the hosts of The Talk, so it's not like these celebs are hurting for screen time.)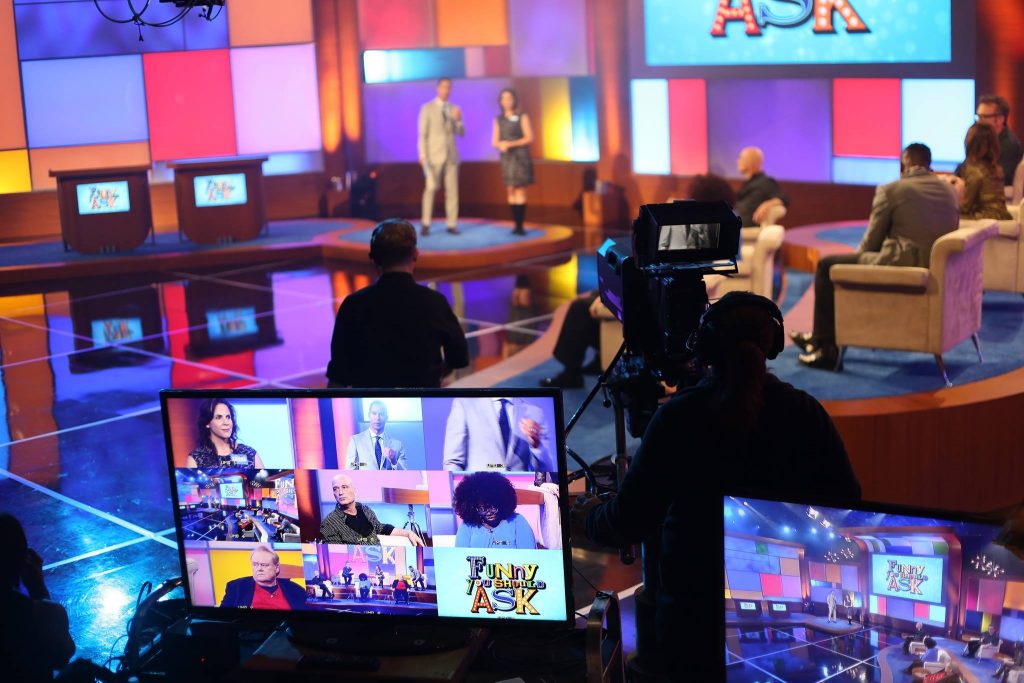 The jokes range from Hollywood Squares-level corny zingers to actually clever, laugh-inducing chuckles. Out of 21 questions asked, I audibly laughed 7 times. (Yes, I counted.) This is the strength of having six pure comedians on the panel (as opposed to a Squares type show in which 1/3 of the panel are comedians and the rest are entertainers delivering the writers' jokes with just enough timing to earn their scale pay for the day) and Funny You Should Ask builds on that well.
Jon Kelley's performance as host is serviceable. On his surface, he seems excited, but his excitement doesn't build to the atmosphere. He is a competent ringleader but you could lift and replace him with an off-screen voice and nothing of value would be lost. The theme song is Pharrell Williams' Happy, and it's left to the reader whether composing new music would be cheaper or more expensive than licensing the 20 seconds of Happy the show uses. The set is actually really nice; it doesn't fall into the trap of being blue and purple and dark all the time. I would appreciate it if more the questions weren't True or False; it feels like there's more room for comedy with open-ended answers.
In my home town, FYSA airs at 3:30 PM. In other parts of the country, the show's time slot is 8 AM, or midnight, or some time else. Thus is the trouble with syndication: starting a new, untested show in syndication means taking a lot of chances in some aspects of production and playing it safe in others. A cheap show makes sense when it's once a day and maybe at 2 AM. But with the surprisingly high name recognition of the celebrity panels and the speed at which questions go through, it's clear the show was crafted to capture channel-surfing viewers. Whether the show makes it to a second season will not be because the show isn't well-crafted (because it is), but because it's not being watched. Find it on your local listings and give it a shot.